A decade ago, Apple wasn't a very big name. You would hear about their products and some people would buy them, but they just were not a huge hit. Today, Apple has become the biggest company in the world. Just how big are they?
Compared to Other Companies
Let's compare Apple to some other popular companies. For starters, Google is a pretty big company right? They are worth $196 billion dollars. Walmart is a slightly bigger company that is worth $205 billion dollars, beating Google by $9 billion. Everyone should remember Microsoft, as it was the largest company in the world for quite a few years. They are worth $268 billion dollars today and are Apple's biggest competition. While these companies are big, they fail in comparison to Apple. Today, Apple is worth a total of $508 billion dollars! That is nearly double what Microsoft is worth. Apple only continues to get bigger, becoming worth more and more each year.

Infographic Source: Best Computer Science Degrees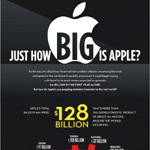 Infographix Directory is a collection of data visualization and infographics from around the web. Submit your infographic to our directory