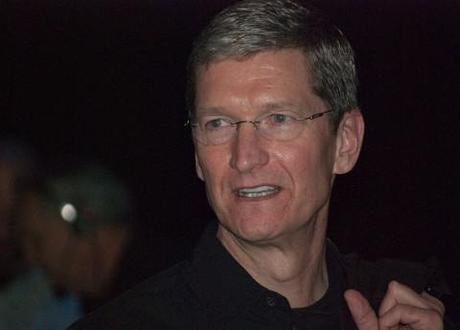 Tim Cook, the CEO of Apple. Photocredit: lemagit http://www.flickr.com/photos/[email protected]/3199045320/sizes/z/in/photostream/
Software giant Apple's exceeded all expectations in the last quarter. It's revenue was up 73 per cent, to $46 billion. It sold 37 million handsets in that quarter, making its marketshare, according to Strategy Analytics (quoted on The Wall Street Journal) a whopping 25 per cent. And this was even without including China. The company also shifted 15.4 million tablet computers, up an elephantic 38 per cent from the previous quarter. It now has, according to WSJ, a "cash pile of $97.6 billion." And this is even after the company's supposedly messianic founder, Steve Jobs, died in October. The Wall Street Journal's calling it an "iWin." Pressure is now mounting on its rivals. Google, watch out.
In your face, Microsoft! Joe Wilcox on BetaNews said that the iPhone alone generated more money than all of Microsoft. "One product's revenues against an entire company's."
iCashing in. So what can Apple do with its giant wads of iPhone-shaped wonga? Rolfe Winkler in The Wall Street Journal suggested that they can expand in "Eastern Europe, Latin America and the Middle East." And the biggie – China! Though it won't hit very soon, because current models of the iPhone "aren't compatible with its 3G netwok."
Egg on your face? Nope. There's certainly demand for the gorgeous gadget in China, reported Bloomberg. Tim Cook, Apple's CEO, said that the company had massively underestimated what they'd sell. Crowds even threw eggs at the Apple store in Beijing when it didn't open to sell the iPhone 4S. It sold 5.6 million iPhones in China in the first nine months of last year.
Up, up, up. The brokers are certainly twitching their noses, said The Economic Times – six of them have "raised their price targets" on Apple's shares from $560 to $650. There's also the specter of the iPad 3, and the iPhone 5 which will help "sales momentum in 2012."
"The momentum that Steve Jobs created, Tim Cook is maintaining. We kind of run out of adjectives to describe this quarter," said Gene Munster, an analyst at Piper Jaffray Cos., in a televised interview on "Bloomberg West", quoted in the San Francisco Journal.
It's all down to Siri. Lovely, lovely Siri.  Wiredsaid that Apple had attributed its success to "the charming effect Siri has had on consumers." (Siri is the "personal assistant" to which you can talk.)
Um. Guys. What about the iPod? The Guardian's blog pointed out that actually iPods are in decline – the company sold a mere 15.4 million of them – a decline of 21 percent. "Blink and you'd miss it."
But what about the workers in China? Rebecca Greenfield on The Atlantic Wire pointed out that merely a few days ago the internet was going crazy over Apple being a "monster." Look at the terrible conditions endured by workers in its Chinese factories. It seems that in all the celebration of its profits, nobody's remembering it. Greenfield said that a New York Times correspondent, on Sunday, had written "SHAME ON APPLE." All that's lost, now, in the jubilation at the company's profits.