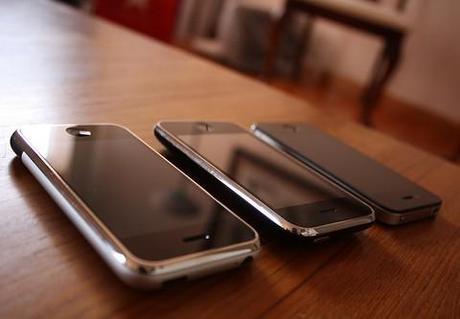 What will the next earth-shattering change be? Photo credit: Gordon Mei http://www.flickr.com/photos/reticulating/5288349613/
In its first weekend of sales Apple sold a whopping 4 million iPhone 4S handsets, surpassing analysts' expectations of a 3 million opening weekend. And yet the 4S is still seen by many as just a warm-up for Apple's next big release – the iPhone 5. Not content to satisfy themselves with their new 4S toy, fanboys and rumour hunters worldwide are already guessing at what magnificent form the iPhone 5 might take, and when it will appear. We take a look at the what we can expect.
Steve's last hurrah. Ashok Kumar, an analyst at Rodman & Renshaw, claimed the next iPhone was the last baby of Steve Jobs. CNET reported that he said Steve Jobs was "intimately involved" with the iPhone 5 project, "from concept to final design." He saw the iPhone 5 as likely to become a "cult classic" because of Jobs' involvement.
Total redesign. There was widespread disappointment and significant distress caused when the iPhone 4S was revealed, because it looked too similar to its predecessor, the iPhone 4. No such problem here, according to CNET's "anonymous source", who said the iPhone 5 would be "a complete redesign." TechRadar agreed, expecting "an entirely new casing", while whisperings of a larger screen compared to previous iPhones are getting quite a few people very excited. Also expected are "quad core" processors and 4G (also known as Long Term Evolution – LTE) capabilities.
Samsung and Apple's  love/hate relationship. As Samsung tries fervently to combat Apple's success by barring the iPhone 4S release in some countries, it seems Apple and Samsung's working relationship will persist. 9to5 Mac reported that Samsung is making the A6 processor to be used in the next iPhone (and possibly the iPad 3). It seems the companies may be setting aside their problems, on this project, at least.
When will it be here? The phone will probably be ready for sale in summer 2012, said Kumar. Until then, you'll have to make do with the iPhone 4S, which was, after all, only released last week.