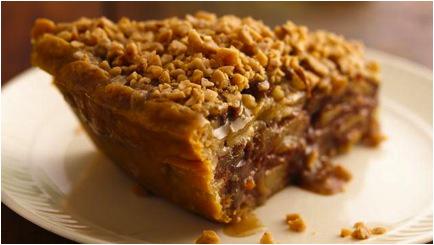 Source: Pillsbury
I hope you're sitting down…because I'm about to blow your dessert-loving mind. Imagine the best apple pie you've ever had. Now imagine adding pear and toffee bits. Oh, and did I mention the whole thing is drizzled in caramel sauce…and more toffee bits? This apple-pear praline pie is a new twist on an old classic. The pear adds an extra wow factor to this traditional favorite and the toffee, pecans, and caramel bring it all together in one of the most amazing pies I've ever tasted. Ok, once you've collected yourself, make a grocery list, head to the store, and then hit your kitchen to make this dessert immediately. I highly recommend eating it warm…a la mode style….
Ingredients
6 cups thinly sliced peeled Granny Smith apples
3 cups thinly sliced peeled pears
3/4 cup granulated sugar
1/4 cup all-purpose flour
2 to 3 teaspoons ground cinnamon
1/4 teaspoon salt
1 box refrigerated pie crusts, softened as directed on box
1 tablespoon all-purpose flour
2 tablespoons butter or margarine
1 1/2 cups (1 bag – 8 oz) toffee bits
1/2 cup butter or margarine
1 cup packed brown sugar
1/4 cup half-and-half
1 cup chopped pecans
Directions
Heat oven to 350°F
In large bowl, gently toss apples, pears, granulated sugar, 1/4 cup flour, the cinnamon and salt. Let stand 15 minutes. Place 1 pie crust in ungreased 9-inch deep-dish glass pie plate; sprinkle lightly with 1 tablespoon flour. Spoon apple mixture into pastry-lined pie plate; dot with 2 tablespoons butter. Sprinkle with 1/2 cup of the toffee bits. Top with second pie crust. Flute edges as desired. Cut slits in several places in top crust to allow steam to escape.
Bake 50 to 55 minutes or until golden brown; remove pie from oven. Meanwhile, in 1-quart saucepan, melt 1/2 cup butter over low heat. Stir in brown sugar and half-and-half. Heat to boiling, stirring constantly. Remove from heat; stir in pecans. Spread sauce over top of hot pie; sprinkle with remaining toffee bits. Cool 2 hours before serving.