Since today, March 14, is National Pi Day, I'm celebrating this mathematics phenom day, my loverrrrleeee luvs, with something PIlicious!  These ~apple pear pie stackers~ are totally PIriffic because whether you eat them right out of the oven hot or the next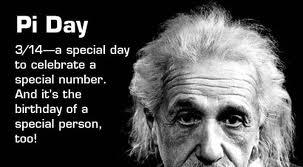 day cold, you're gonna have tingly giggle tastebuds jumping up and down!
Not too sweet, a little nutty crunch and then some tangy twings, and you'll see why you want to make a mess of these 'pie (PI) stackers' for snacking, too!  Loaded with fresh apples and pears and then swimming in a puddle of roasted walnuts, you can add whipping cream, ice cream or maybe a dollop of whipped mascarpone to round out the flavors with something creamy~~of course, if you're like me, I can take these pie stackers straight up~~nothing but the naked baked pie~ xoxo ~~ally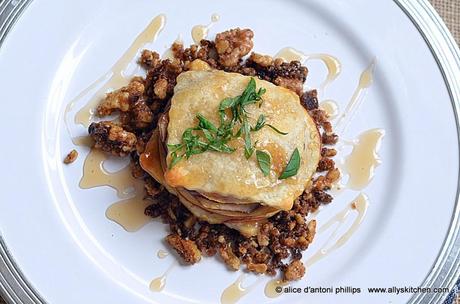 Makes: 4
Preheat oven to 350
What you need:
1 refrigerated roll-out pie crust
1 egg beaten
1 crisp apple
1 almost ripe pear
1/3 cup raw sugar (divided) + more for sprinkling
4 tbl room temperature butter (divided)
1 1/4 cups chopped walnuts (put in food processor)
1 tsp cinnamon
1/2 tsp allspice
1/4 tsp sea salt
Balsamic Reduction Glaze (store bought)
1 tbl chopped fresh mint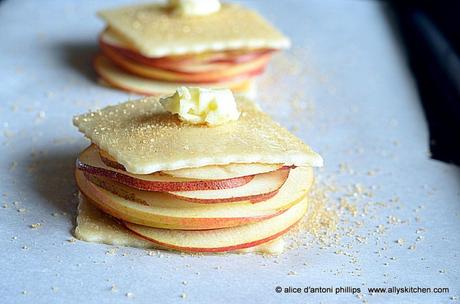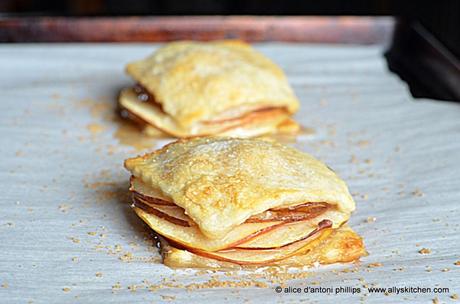 What you do:
Cut eight 2-3″ rounds or squares from the rolled out pie crust.  Plate on parchment paper lined cookie sheet.  Brush with egg wash.  Sprinkle with some of the raw sugar.  Set aside.
Using a mandolin, slice the apple and pear (skins on) into thin slices.  Take out any seeds.  Stack equal layers onto 4 of the pie crust pieces.  Top with the remaining pie crust and put a small dollop of butter on each.  Bake in a preheated 350 oven about 17-19 minutes or until golden brown. Remove and let rest about 7-10 minutes.
In a skillet melt the remaining butter over medium heat.  Put the nuts, cinnamon, allspice and salt in the food processor and pulse a few times until the nuts are chopped (there will be varying sizes).  Put into the skillet, toss and turn coating the nuts with the butter.  Let the nuts roast about 7-10 minutes.  Turn off heat and remove.
Plating~~Put a 'puddle' of nuts in the center of your serving plate.  (Have the puddle flat.)  Top with a pie stacker.  Drizzle with balsamic and garnish with fresh mint.  Ice cream would, no doubt, be great, too!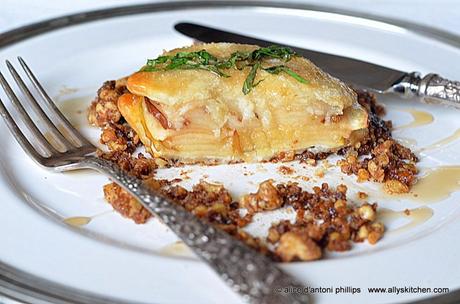 ©alice d'antoni phillips   www.allyskitchen.com