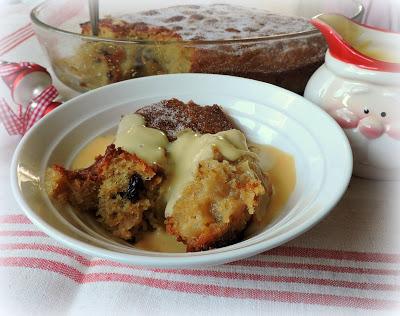 The recipe I am sharing with you today is one I adapted from a recipe I found on a site called
From the Larder. 
It is called Bramley Apple & Mincemeat Pudding.  It is perfect for this time of year, and in fact would make a lovely holiday dessert for Christmas or Boxing day.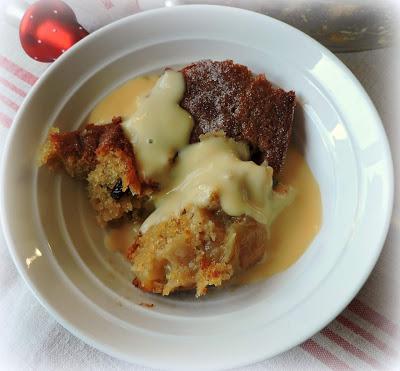 At its base is a layer of Bramley cooking apples which are chopped and mixed with some lemon juice, zest and brown sugar . . . .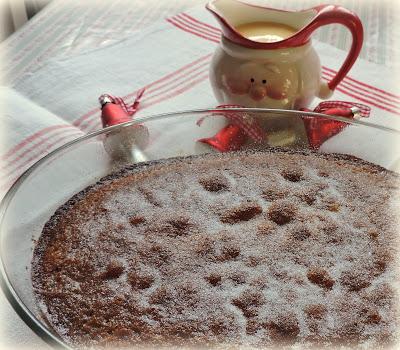 Bramley Apples are fabulous cooking apples.  Large, flattish round apples with a green skin and red blush these are fabulously tart apples, with a beautiful white flesh that cooks down into a frothy pulp which makes them ideal for cooking with.  They make beautiful applesauce and crumbles.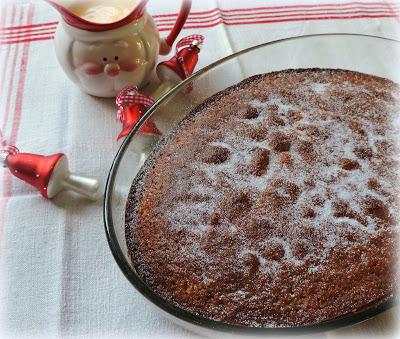 They are
incredibly
tart however . . .  I cannot see anyone ever being able to eat one raw without any sugar.  I remember making an apple pie with them when I first moved over here and it was soooooo sour!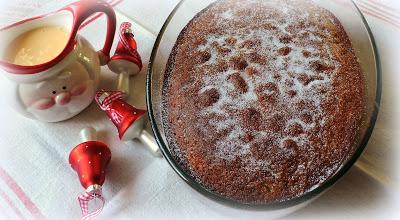 They make really great Baked Apples also because they hold up well when baking, but the insides bcome lovely and frothy.  A good North American substitute for them would be a Granny Smith or a Gravenstein.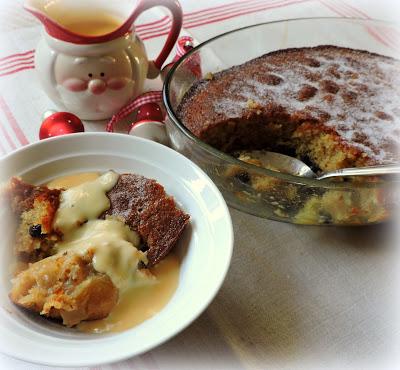 In any case a layer of these apples, chopped, gets spread out in a baking dish and topped with a sweet cake batter . . .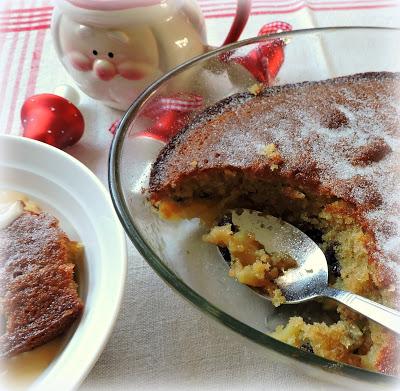 Its a pretty basic vanilla sponge, with equal parts fat, sugar and flour, with some leavening agents added and spoonsful of prepared mincemeat.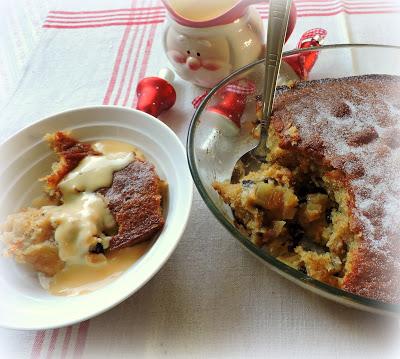 Over here you can get many different varieties of mincemeat this time of year . . .  the store shelves are bulging with choice.  I would choose a good basic mincemeat, unless you have made your own.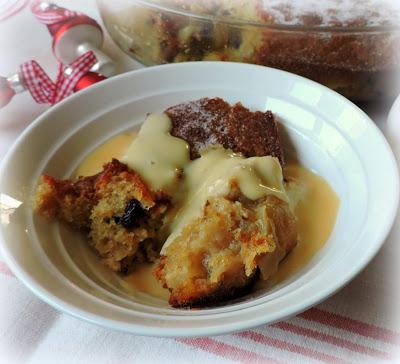 Homemade is always the better choice and generally speaking I make my own each year. My recipe makes about a pound of mincemeat which is about enough to make 3 dozen mince pies/tarts.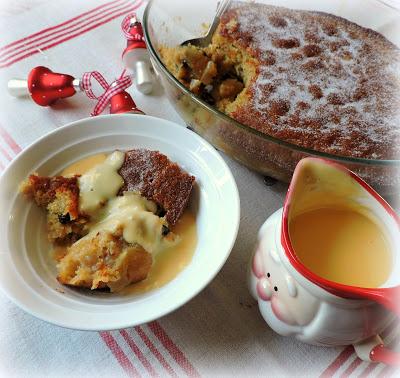 Yield: 1 pound
Author: Marie Rayner
*Homemade Mincemeat*
A delicious blend of dried fruit, nuts, spices, brown sugar and brandy. (I use apple juice)
ingredients:
150g of currants(1 cup)
125g of raisins (3/4 cup packed)
25g of blanched almonds, finely chopped (1/3 cup)
1 knob of preserved stem ginger, finely chopped
1 eating apple, peeled and grated
50g of shredded beef or vegetable suet (1/2 cup)
1/4 tsp ground cinnamon
1/4 tsp ground nutmeg
pinch of ground cloves
the finely grated zest and juice of one lemon
2 TBS brandy
1 TBS dark muscovado sugar
instructions:
Combine all the ingredients in a bowl and set aside for at least 12 hours to macerate. Transfer to glass jars, seal and store in the refrigerator until ready to use.  This will keep a good long while.Created using
The Recipes Generator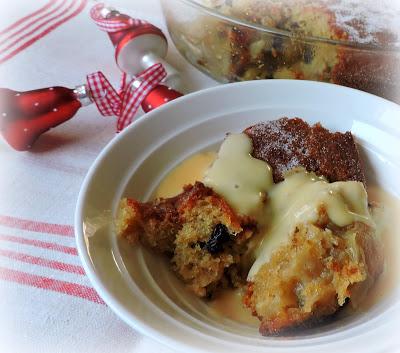 Failing the desire to make your own, just use a good store brand.  Six TBS of this gets stirred into the cake batter which is then spread over the chopped apple in the baking dish.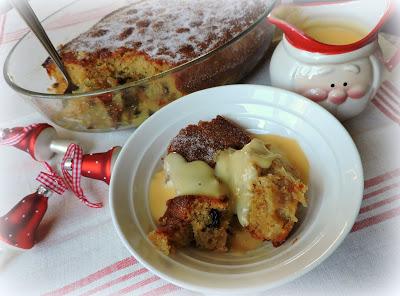 You pop it into the oven where it bakes until the apples are succulent and soft and the cake batter is all risen and golden brown.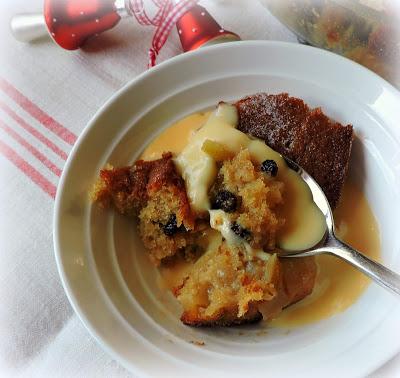 Ready to be spooned out warm into bowls and topped with your favorite go-withs  . . .  warm custard (Todd's preference), pouring cream or scoops of a good Vanilla bean ice cream.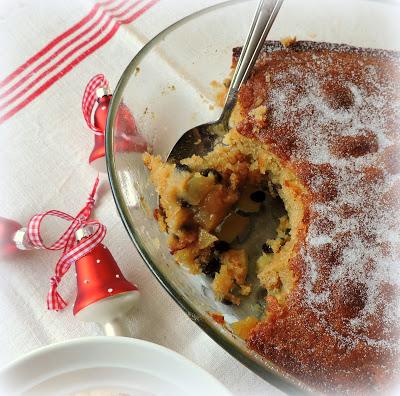 This is so very delicious.  Pudding here is a name which is used to describe a dessert . . .  and they come in many shapes and sizes and types from crumbles and bakes to cakes and stodgy steamed concoctions (Think Plum Pudding here) and everything in between.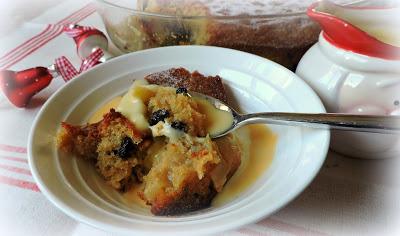 Bread and Butter pudding is a real favorite here in this house as well as Sticky Toffee Pudding, and after today this pudding has become another favorite that I know I will be making often for Todd.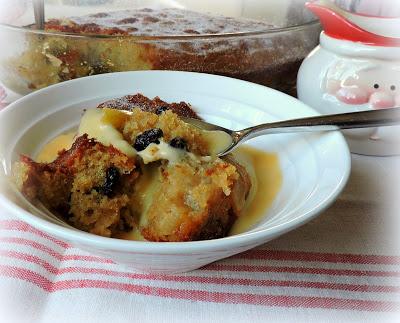 Its nothing short of delicious with that jammy apple on the bottom, that sweet spicy sponge on top and of course with the custard/cream or ice cream on top.  Altogether, quite,
quite
delicious!  You won't want to miss this! 
Yield: Serves 6
Author: Marie Rayner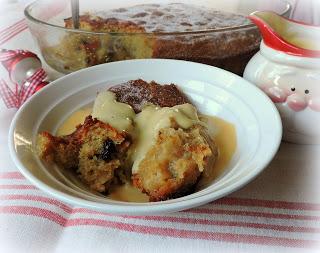 Apple & Mincemeat Pudding
prep time: 15 mins
cook time: 45 mins
total time: 60 mins
If you are like me you have an abundance of mincemeat in your larder during the holidays.  This is a very delicious way of using some of it.  A light and fluffy spiced cake, studded with currants and raisins, baked atop sweetened chopped apple.  Serve warm with custard, cream or ice cream.
ingredients:
2 large cooking apples, peeled and dicedthe finely grated zest and juice from 1/2 lemon2 TBS soft light brown sugar150g butter, softened (2/3 cup)150g caster sugar (fine granulated sugar, 3/4 cup)3 large free range eggs1 tsp vanilla extract6 TBS prepared mincemeat150g plain flour (1 cup all purpose + 1 heaped TBS)1 1/2 tsp baking powder1/4 tsp salt1 TBS whole milk
You will also need:
1 tsp caster sugar for sprinklingwarm custard, single cream or ice cream to serve
instructions:
Preheat the oven to 170*C/325*F/ gas mark 3.  Butter a shallow baking dish. Set aside.
Sift together the flour, baking powder, and salt.  Set aside.
Mix together the apple, lemon zest and juice and brown sugar. Pour into the prepped baking dish. Cream
 together the butter and sugar until light and fluffy.  Beat in the eggs
 one at a time.  Stir in the vanilla and mincemeat.  Stir in the flour
mixture just to combine.  Stir in the milk.  Pour the batter over the
apples in the dish.  Spread out evenly.
Bake
for 40 to 45 minutes until golden brown and a toothpick inserted in the
centre comes out clean.  Sprinkle the caster sugar over top just prior
to serving.  Serve spooned out into bowls with your desired
accompaniment.
Created using
The Recipes Generator
  I will include my recipe for custard as well so you don't have to go hunting for it.
Yield: about 3 cups
Author: Marie Rayner
Proper Custard
This is also known as creme anglaise. Be sure not to let the mixture boil once the eggs are added, or you will end up with a curdled mess. You only need to heat it up enough to cook the eggs. The custard is ready when it coats the back of a wooden spoon.
ingredients:
8 egg yolks
75g caster sugar (a generous 1/3 cup)
300ml whole milk  (1 1/4 cup)
300ml double cream (1 1/4 cup)
1 vanilla pod, split
instructions:
Beat
the egg yolks and sugar together in a bowl until well blended. Place
the milk and cream in a saucepan with the vanilla. Scrape the insides
of the vanilla pod into the mixture before you add it. Bring the
mixture just to the boil.
Pour a little of this mixture into the
eggs to temper them, and beat it together well. Pour this back into the
pan and whisk together. Return to the heat and using a whisk, lightly
stir until it begins to thicken. DO NOT BOIL.
As the egg yolks
warm, the cream will get thicker and create a custard. Keep stirring
until it coats the back of a wooden spoon. Remove from the heat and
pass through a fine sieve. Leave to cool a bit before using. Serve warm
or allow to cool completely,stirring occasionally.Created using The Recipes Generator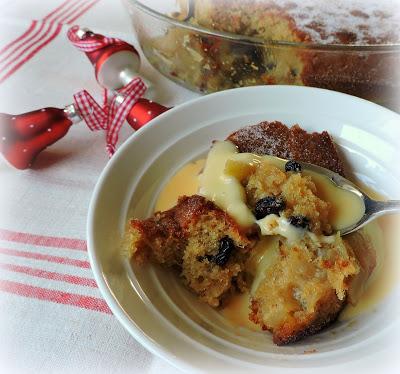 I think this is a dessert for the holidays that your family is really going to love.  It is not complicated in the least and is sumptuously delicious.  Delicious enough to serve as a light alternative to a heavy Christmas Pudding on Christmas Day!  Bon Appetit and Happy Holidays!