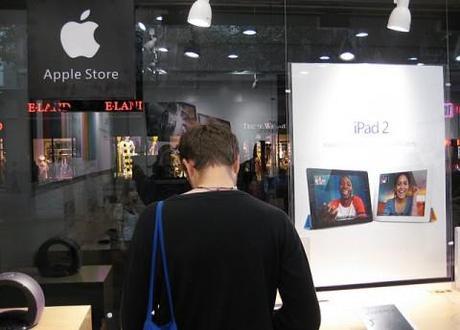 At the Kunming "Apple" Store. Photo credit: BirdAbroad, http://birdabroad.wordpress.com/2011/07/20/are-you-listening-steve-jobs/
The wait is over: Apple has unveiled the latest iPhone. But the device is not the widely anticipated iPhone 5; instead, CEO Tim Cook presented the iPhone 4S. Although some had already predicted this would be the case, for others the announcement was a serious disappointment. Here's what you need to know about the launch.
It's not an iPhone 5. Yes, we've already said that, but after all the hype and anticipation, the point bears repeating. Over at The Daily Beast, Dan Lyons pointed out that Apple's share price fell $10 before the iPhone 4S launch was over – "which tells you all you need to know about how people are responding to what Apple introduced," he wrote. Chris Taylor at Mashable suggested that Apple had failed to manage expectations: "The vast majority of the technology world was still expecting an iPhone 5, and with good reason."
It's an iPhone 4S. Taylor described the latest iPhone as "merely an iPhone 4 with more advanced innards". So, on a basic level, it's a refreshed version of the iPhone 4, with the same outward appearance but enhanced specs. So why would anyone upgrade?
Siri. One prediction that turned out to be on the money was the introduction of Siri voice software. At Mashable, Jennifer Van Grove described Siri, which is exclusive to the iPhone 4S as "your own personal assistant waiting for your every beck-and-call":  users can now "talk" to their phone, telling it to put a meeting on your calendar and asking it about the weather or for directions. Which may garner some strange looks. Writing for The Guardian's Comment Is Free, Dan Gillmor argued that the Siri software, which integrates with other iPhone apps, "should be seen in the context of Apple's plans to keep its customers entirely inside the Apple ecosystem".
Camera. Writing for TechCrunch, Erick Schonfeld pointed out that the iPhone 4S will have an improved camera, with greater ease of use and more pixels, along with lenses designed to improve pictures' sharpness.
World phone. The iPhone 4S will have two antennas and have a dual America/Europe chip that apparently means it will work in any country. Which is nice.
Need for speed. The iPhone 4S will have a better processor, making it faster. However, writing for ZDNet, James Kendrick suggested this was not the most important innovation: "iPhone owners have never cared about that. They want the iPhone to do what they want nicely, and no doubt the iPhone 4S will serve their needs, better than the earlier model," he wrote.

More on iPhones

iPhone 5 launch date set
iPhone 5 launch day arrives
iPhone 5: Five top hints
More gadgets »