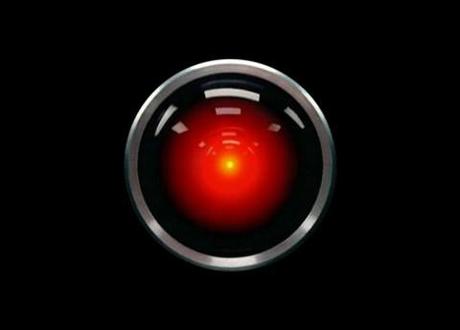 Artificial Intelligence: is Siri too smart? Photo Credit: MGM
As consumers and reviewers try to get over their disappointment that Tuesday's big Apple announcement was the iPhone 4S, not a freshly designed iPhone 5, attention has turned to the new innards of Apple's new gadget. Siri, the voice recognition software, is the most exciting addition to the phone that is otherwise almost identical to its predecessor, the iPhone 4. Previously a stand-alone app, which has now been pulled from the App Store, Siri is a now a fully-integrated, voice-operated "personal assistant", and it wants to help you with everything from selecting your outfit in the morning to booking a table at a restaurant. But is its full release the "world-changing event" its creators claim, or is Siri a useless feature of an insufficiently novel toy?
Jaw-dropping. Most first impressions of the new software have been positive. Rhodri Marsen of the Independent, who dismissed the "dissatisfied mumblings over the absence of the number 5 after the new iPhone's name, or an unnecessarily radical new design," found the new feature "truly jaw-dropping." A wary Vincent Nguyen of slashgear.com said, "Siri makes promises that we've learnt to be wary about over the years", as voice recognition software of days gone by has been more infuriating than helpful, but was "surprisingly impressed" by Siri's speed and ease of use, calling it "very, very good." Siri even stood up to Darren Murph's attempts to confound it at Engadget: "We tried to psych it out with a bunch of random requests … Siri never faltered, never missed a beat."
"We'll get to the point where we as consumers prefer talking to a virtual assistant like Siri instead of talking to a person", Siri Co-founder Normal Winarsky ominously boasted to Mashable.
Intimate. Speaking to Mashable, Normal Winarsky, co-founder of Siri, called the system "a much more intimate experience" than anything that has come before. Paul Miller at thisismynext.com warned that "recognizing voice has to be bulletproof for it to be truly useful", but believed that Siri adequately addresses the issues that previous voice recognition attempts have failed to tackle. He worried, however, that a lack of text-input capability may hold back the software, and was displeased by Apple's insistence that Siri should only be available on the iPhone 4s.
Why bother? Not everyone saw the point. Linda Holmes of NPR said she had no plans to strike up a chat with her phone: "I don't talk to my phone. I don't need to talk to my phone. Buttons are fine. They are clear. I know I'm not being misunderstood." Mat Honan, writing for Gizmodo agreed. He said Siri "looks like the most amazing thing I'll never use"
Here's how Apple want you to see Siri: