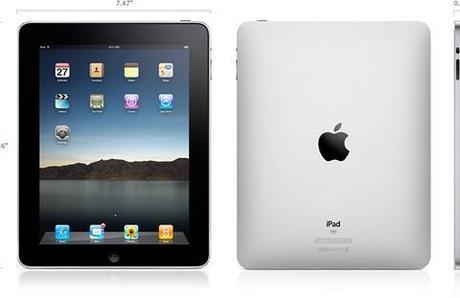 What will the iPad 3 look like?
Apple is preparing to launch the iPad 3 on March 7 according to Apple blog iMore, which cites "sources who have been reliable in the past." The latest version of its hit tablet computer will likely feature improved screen and processer, forecasts the tech commentariat.
Apple has not yet announced any plans for a launch event and never comments on new devices before they are officially unveiled. That said, a March 7 launch would be in line with the firm's previous habit of releasing a new version of their top gadgets every year. The iPad 2 launched March 2 last year, and went on sale a week later. Last week, The Next Web blog said that Apple had gone into 'crunch mode', making the final preparations before launching the iPad 3.
Read a round-up of the frenzied iPad 3 rumours here.
Smaller screen size? Lorraine Luk and Jessica E. Vascellaro at The Wall Street Journal reported that Apple is testing a tablet with a smaller screen: "Apple Inc. is working with component suppliers in Asia to test a new tablet computer with a smaller screen, people familiar with the situation said, as it looks to broaden its product pipeline amid intensifying competition and maintain its dominant market share." The newspaper reported that Apple is testing a new device with a screen size of around 8-inches, compared with iPad 2's 9.7 inch screen. "A smaller tablet device would broaden Apple's portfolio and help it better compete with rivals such as Samsung Electronics Co. and Amazon.com Inc. It would also begin to emulate the strategy it took for its iPod music player, which it released in a number of shapes and sizes over time."
In 2010, Steve Jobs, Apple's late co-founder and chief executive, criticized smaller tablets, saying the iPad's 9.7-inch form was "the minimum size required to create great tablet apps."
Higher res screen, more powerful processor. "As with previous Apple launches, the new device, dubbed the iPad 3 by technology commentators, has been the subject of feverish speculation and rumour," observed The Times (£), which reported that "it is expected to come with a higher resolution screen of 2048 pixels by 1536 pixels, and many technology bloggers have predicted that it will feature the 'retina display' already on the iPhone 4S – so called because Apple claim that, at arm's length, the screen allows for the maximum amount of detail the human retina can perceive." The newspaper added that the iPad 3 is "also believed to have a more powerful processor — the A6 chip — which will make it significantly faster than its predecessor."
The iPad represented more than 61.5% of world-wide tablet shipments in the third quarter, down from 68.3% in the second quarter, according to market researcher IDC.
iPad 3 or iPad HD? The Daily Telegraph, expected, like others, that March 7 will be the big day, and noted that, "plenty of questions still remain about the iPad 3, though as the expected launch draws closer we are likely to hear more rumours. It's also not clear, for example, whether the new iPad will have improved cameras, increased storage capacity or Siri – Apple's voice-controlled personal assistant." The newspaper said that it won't necessarily be named the iPad 3: "Even the name is in question, with some suggesting that Apple could choose a name that reflects the improved screen resolution, such as 'iPad HD'."