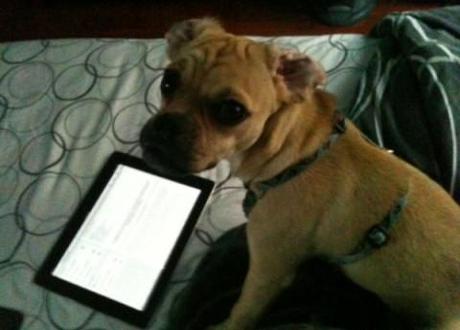 Penny the dog with an iPad. Photo credit: Twitpic http://twitpic.com/7wdmg9
Apple is widely expected to unveil the new iPad at a scheduled event on Wednesday – and anticipation is such that there may well be riots if no device is forthcoming. Apple fanboys can barely contain their excitement about the prospect of a new iPad – to be named either the iPad 3 or iPad HD depending on who you believe – and the what-to-expect rumor mill has hit overdrive.
In fact, iPad excitement seems to have reached such fever pitch that the buzz has even tweaked the attention of the canine world. Yup, that's right, dogs can't get enough of Apple's tablet. That's according to a Buzzfeed round up of YouTube videos which all show puppies (sort of) playing with iPads.