Apple Inc. has secured two domain names recently with two different UDRP filings on the domain names AppleID.com and AppleAccount.com .
AppleID.com
The AppleID.com domain name was registered on May 26, 2004 and was secured by Apple Inc. in a UDRP case #D2015-0582 with a status of "Terminated". The terminated status often relates to the respondent not putting up a fight and transferring the domain name. According to whois records, Apple Inc is now the owners of the domain.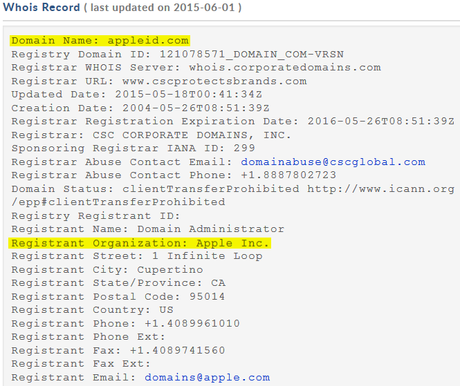 I tried to find an announcement as to when Apple Inc. announced "Apple ID" but was not able to find an actual date. An Apple ID is a "user name" associated with ones Apple account with services like iTunes.
The AppleID.com domain name has long been under whois privacy protection but on April 6, 2015 that was removed, displaying a "Hiroshi Kaneko" of Japan as the owner. According to Archive.org, AppleID.com resolved to a standard registrar default page in 2011 but no other recent records were available. AppleID.com now redirects to: https://appleid.apple.com/
AppleAccount.com
The AppleAccount.com domain name being registered since December 23, 2006 was won by Apple Inc. in case #D2015-0461
which you can view the evidence and findings of the case here.
The decision was stated:
For the foregoing reasons, in accordance with paragraphs 4(i) of the Policy and 15 of the Rules, the Panel orders that the disputed domain name <appleaccount.com> be transferred to the Complainant.

Tuukka Airaksinen
Sole Panelist
Date: May 12, 2015
The domain names whois records have yet to update to Apple Inc. at the time of this article for AppleAccount.com. I had reported earlier on Apple securing the AppleID.com domain name here, so now with AppleAccount.com, this is the second recent domain won by Apple Inc. with a UDRP.