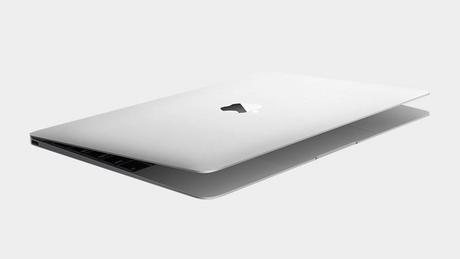 Apple has announced its all new MacBook notebook at its "Spring Forward" event, which also saw the official launch of the Apple Watch. While we all knew that the focus was on the smart watch, Apple clearly blew us away with its all-new MacBook offering.
You could call it a premium notebook offering from Apple's stable of PCs as the MacBook snugly sits between the existing MacBook Air and the MacBook Pro range. The new MacBook looks brilliant and comes in three color options to begin with, gold, space grey and silver. This notebook is indeed thinner and lighter than even the MacBook Air range and indeed goes to show Apple's hardware capabilities and its interest in the PC market.
The new MacBook measures just 13 mm thick at its thickest point (the MacBook Air is healthy 17 mm) and comes with no plastic inserts for the body panels. This also happens to be Apple's first PC to sport a fan-less construction and comes with a re-engineered keyboard that Apple developed just for the MacBook.
Again another first would be the use of Apple's Taptic engine on a MacBook. Four sensors accurately predict input that now even includes a new (for MacBooks) gesture called Force Touch. Force Touch debuted with the Apple Watch.
As for the hardware bits:
We get a brilliantly bright, 2304×1440 resolution, 12-inch display that almost spans the width of the machine
Inside we get a 1.1 GHz or 1.2 GHz, low-power Intel Core M processor, that also packs in an Intel HD Graphics 5300 GPU and 8GB of 1600MHz LPDDR3 memory
Storage options also include 256 GB and 512 GB flash memory modules
Connectivity options are now hidden behind an aluminium panel (instead of plastic) and include 802.11ac Wi-Fi and Bluetooth 4.0
You get USB-C port, that supports USB 3.1 Gen 1 (up to 5 Gbps), Native Display Port 1.2 video output and supports VGA output and HDMI video out via adapters
Finally, the battery sports a higher capacity and delivers up to 9 hours of wireless web or 10 hours of iTunes movie playback
Indeed this is a revolutionary notebook and Apple took its time to show off how special it is compared to every Mac system they have built in the past.What is indeed worrisome is price tag. Apple will build and sell two versions of the MacBook. Both come with the same 12 inch screen size but differ in processor and storage capacities.
The lower priced one starts at 1299 USD (approx. 81,564 INR) and comes with a 1.1 GHz processor with 256 GB of storage space; while the pricier 1599 USD (approx. 1,00,401 INR) version comes with a 1.2 GHz processor and 512 GB of storage space.
The former will be available for sale in the US on the 10th of April, while the launch dates for latter have yet to be announced. Both of the above configurations can be upgraded to a 1.3 GHz processor but the pricing for the same was not announced.
Source: http://www.techtree.com/content/news/8543/apple-thinner-faster-new-macbook.html