This post may contain affiliate links. Please read my disclosure.
These perfectly sweet, apple cider pancakes will remind you of an apple cider donut! Made with whole wheat flour, apple cider, warm spices and a fresh apple compote, this is a healthy, family-friendly breakfast that everyone will love!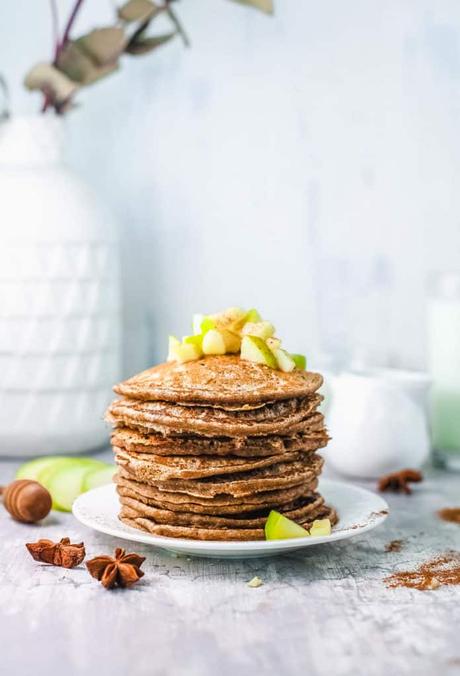 When it's fall, one of our family traditions is to visit an orchard, go apple picking, and get some warm apple cider and donuts. Last year, an orchard we visited made apple cider donuts and they were amazing!! I wanted to recreate those classic fall flavors in a pancake that I could serve for a holiday brunch or weekend treat. These apple cider pancakes are filled with fall spices like cinnamon, nutmeg, cloves and ginger, and are lightly sweetened by ... apple cider of course! They literally taste like an apple cider donut and are the perfect healthy, family friendly breakfast that everyone will enjoy.
Kitchen Tools and Equipment You'll Need to Make Apple Cider Pancakes
How To Make Apple Cider Pancakes - Step by Step
Step 1: In a bowl mix melted butter with brown sugar. Add eggs, vanilla extract and spices and beat to combine.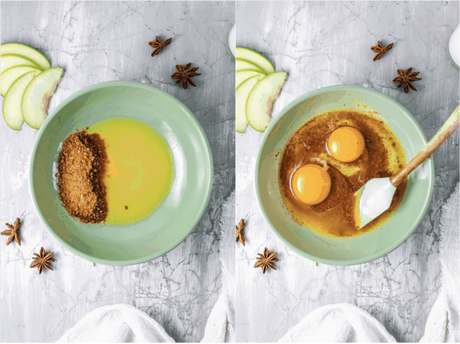 Step 2: Mix in apple cider and add whole wheat flour and baking powder. Mix until everything is well incorporated and there are no lumps left.
Step 3: Heat a skillet over medium heat. Pour a bit of oil to coat the surface, or use olive oil cooking spray. Pour around ⅓ Cup of batter and cook for 2 minutes or until bubbles form on top. Flip pancake and cook for 1 more minute. Remove from skillet and repeat the process with the rest of the batter.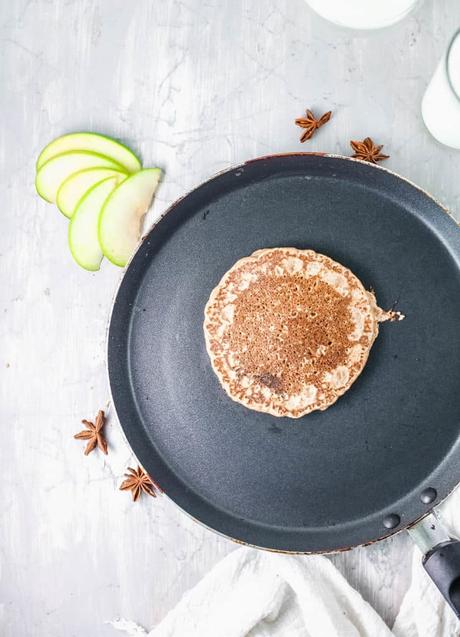 Step 4: While the pancakes are cooking make the topping. In a small pot over medium heat mix apples with apple cider, maple syrup, vanilla and cinnamon.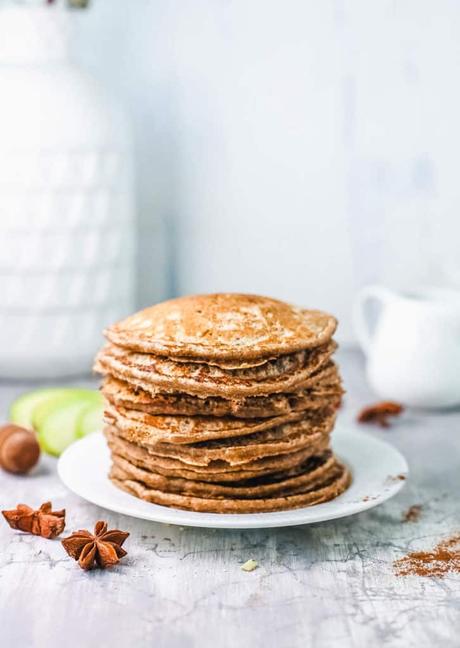 Step 5: Cook the apple mixture for 8 minutes or until apples are soft. Top pancakes with poached apples.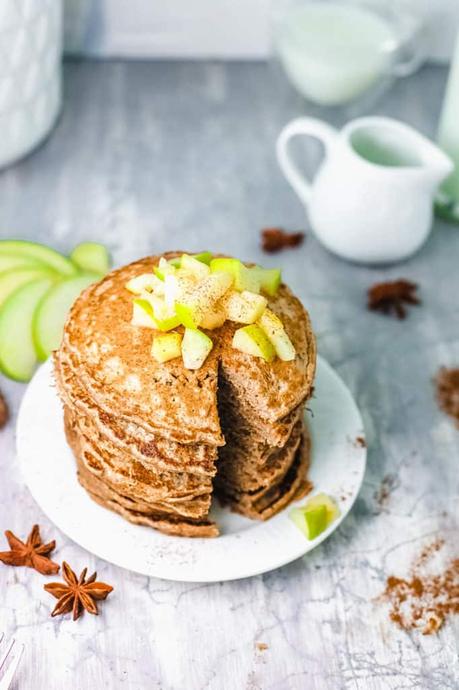 What makes these Apple Cider Pancakes Healthy?
Let's face it, most flavored pancakes aren't the healthiest for you thanks to the refined carbs and added sugars! These pancakes have all of the fluffy deliciousness of the traditional recipe, with these healthy swaps that make them better for you:
Whole Grains: These pancakes use whole wheat flour instead of white flour, giving you a healthy dose of fiber and complex carbs in every bite.
Less Sugar: Most apple cider pancakes call for a cup or more of apple cider, along with more sugar in the batter itself. We cut the sugar in half which still gives these pancakes a nice sweetness, without giving you dessert described as breakfast.
Low Calorie: Most pancakes will run you about 200 calories per pancake! But these pancakes are only about 100 calories per serving which means that you can enjoy seconds and thirds completely guilt free!
Will kids enjoy these Apple Cider Pancakes?
Absolutely! I haven't met a kid who doesn't like pancakes honestly, and the nice thing about these pancakes is that you can replace maple syrup with the fresh fruit compote for the topping - which makes them even more nutritious for little tummies!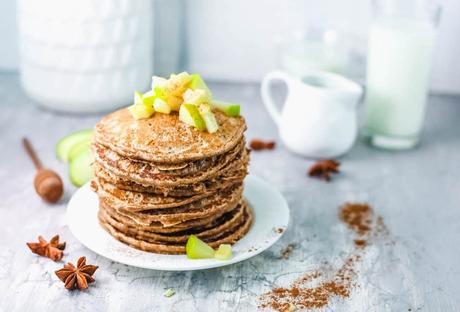 What to Serve with Apple Cider Pancakes
Now obviously, you have to serve apple cider pancakes with apples! But one thing I like to do with pancakes is put out a "toppings bar" - so everyone can choose any combination of toppings they like. Some options that would work with these pancakes include:
Fresh berries (blueberries/strawberries/raspberries)
Diced banana + nut butter
Plain, with just a dusting of cinnamon and nutmeg on top
Diced pears, either served raw or cooked into a compote-like mixture
Warm maple syrup and butter (for a more decadent, dessert like feel)
How to make gluten free pancakes
You have two options to make gluten free pancakes. You can either use a 1:1 Gluten Free flour substitute like this one, or you can use gluten free oats, grind them into an oat flour using a food processor, and use that as a 1:1 substitution.
How to make these apple cider pancakes vegan
To make these pancakes vegan you'll have to make two substitutions:
Use extra virgin olive oil instead of the butter
Use flax eggs in place of the eggs in this recipe.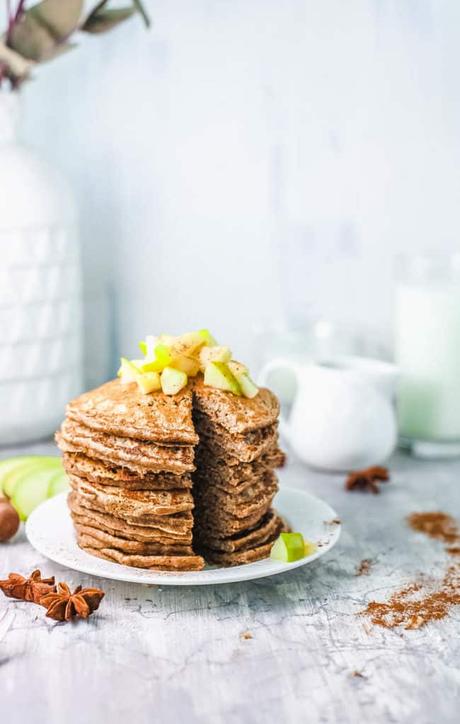 To reduce the amount of lumps in your batter, first mix your dry ingredients and wet ingredients separately. Then, make a well in the dry ingredients, pour in the wet ingredients, and stir a few times. Be gentle - overmixing will result in flat pancakes!
Let the batter sit for about 10-15 minutes while you heat your griddle or skillet.
Use a cookie scoop or pancake dispenser, to measure out the portions.
Flip the pancakes only when the edges look a little dry and you see bubbles on top. They are ready when both sides are golden brown!
Wipe off the skillet in between pancake batches - it's inevitable that some parts of the pancake might flake off and burn, or the unused oil will burn when you're cooking the pancakes. To avoid any off-tasting or burned bits attaching to your next batch, wipe the skillet clean in between!
Top Tips for Making Apple Cider Pancakes
If you have tried this Apple Cider Pancake recipe, or any other recipe on my blog, then please rate it and let me know how it turned out in the comments below! You can also FOLLOW ME on
FACEBOOK
,
TWITTER
, INSTAGRAM and
PINTEREST
to see more delicious, healthy, family friendly food!
Check Out These Other Healthy Breakfast Recipes!
Apple Cider Pancakes