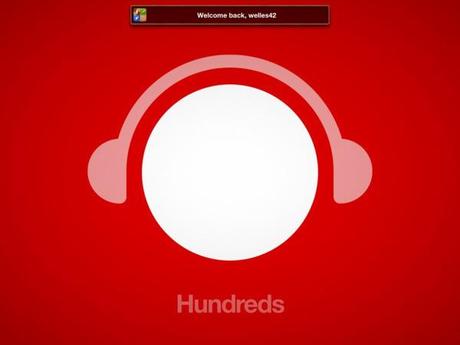 Hundreds is a new multi-touch puzzler available for iPhone and iPad. It combines a slick too-cool-for-school minimalist design with true multi-touch-based gameplay, a relative rarity in app gaming.
The objective is simple on the surface. You press on the various gray circles and the numbers within them increase until you release the press. The total(s) must add up to 100 to proceed to next round, hence the game's name. The challenge is, the circles must never touch each other or any of the various objects that are introduced to foil your quest for 100. Even more notably, you can press four or more circles at once to increase the rate at which you hit 100. But watch out, it's easy to lose track of your surroundings and get got by a wayward obstacle.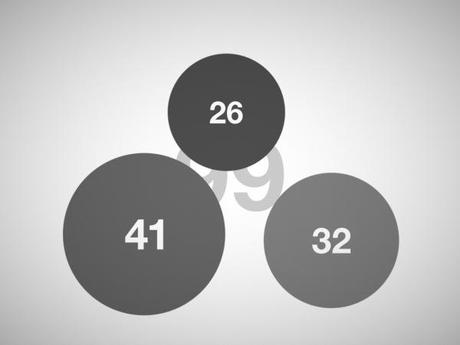 There are, not surprisingly, 100 levels total and I've only made it through 33. Just as an indication of how the difficulty ratchets up, Level 34 has 20 tiny gray circles bumping around each other in random motion along with these 'bumper balls' that of course also cannot be touched by an expanding circle. Good luck with that.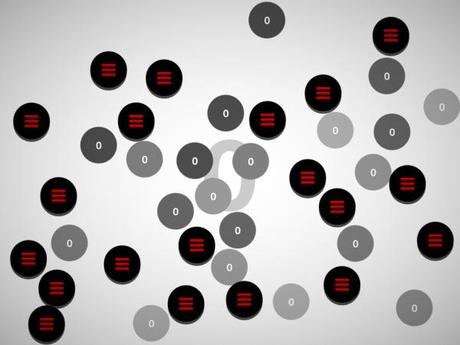 But what sets this game apart, aside from the fresh and intuitive design sense, is the level of engagement it demands of its players. Most smartphone games are throwaway experiences, quick diversions fit for commutes or waiting rooms that don't require a ton of uninterrupted focus. 'Hundreds,' however, demands you hold your device with both hands and give it your full attention. It's a game of microsecond timing, reflexes, and anticipation. Failure happens regularly and forces players to sometimes explore unexpected strategies. And as the obstacles grow in number and speed, getting through a level becomes a minor miracle it seems.
'Hundreds' isn't free, which will turn off many of you I imagine, but if you have some unused iTunes gift card credits and you want to jump into a unique and rewarding mobile gaming experience, this game is for you.
(Available in iOS App Store, $4.99)