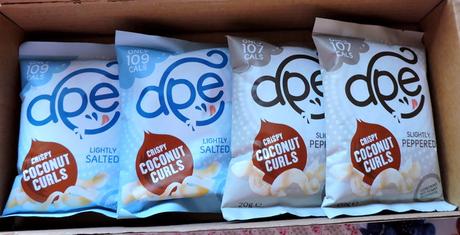 One thing I enjoy about having a food blog is that periodically I get to try some new things out.   Recently I was sent some of these ape Coconut Curl Snacks to try.   ape Crispy Coconut Curls are a new deliciously healthy snack
Not only are ape snacks completely natural, they contain just two products; 100% coconut and seasoning. Plus they are gluten free, count towards your 5 a day and have no more than 109 calories per packet, so you can munch happy!
A great choice for health-conscious snackers, coconut lovers and picnic goers, the curls are thinly sliced directly from the coconut before being slowly dried to retain their natural flavor and nutritional goodness. They are not fried, have no added sugars or chemicals - and they are even crunchier than crisps!
What's more, ape's crispy coconut curls are lower in carbs and higher in fiber and protein than popcorn or potato crisps, so they'll keep you feeling fuller for longer. They are also packed full of medium-chain triglyceride fats which give the fruit its antioxidants, antiviral and antimicrobial properties. They're also the perfect snack for vegans, coeliacs, those with paleo lifestyles.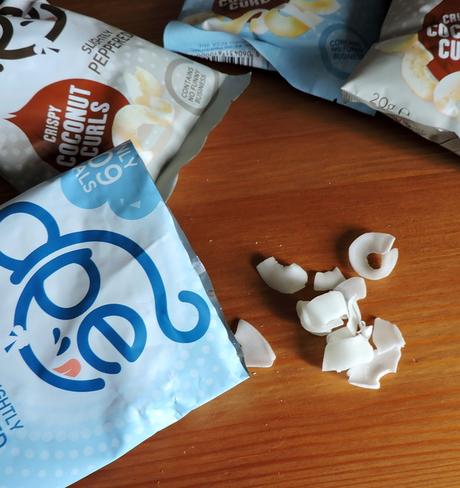 The brand was the brainchild of young entrepreneur, Zack Nathan, who is on a mission to make snacking better in the UK. He explains:
"With the explosion of "healthy" snacks over the past few years, Brits are clearly hungry for something that they can genuinely feel good about eating; consumers are moving away, rightly so, from traditional fried snacks and are starting to appreciate the numerous health benefits of nature's wonderful coconut. What we do is provide both these benefits in an easy-to-eat format that is perfect for on-the-go snacking. We know consumers will love our genuinely delicious, but actually healthy, snacks!" 

ape's coconut curls are available in two flavours:
Lightly Salted and Slightly Peppered, with a third variant set to be released in the near future.
They are available from Co-Op; Ocado; Whole Foods; Planet Organic; As Nature Intended; Harvey Nichols and Revital.
What I thought.   These were crisp and nicely flavoured.  Not crisp in the way that a potato chip is crisp, but like a toasted coconut kind of crisp, except they were not toasted.  They do require some chewing, which means that they stay a bit longer in your mouth than a potato chip or piece of popcorn would.  I am not sure if I would ever like these as much as I do potato chips or popcorn, but its nice to know that these  are healthy snacks that aren't fried and are low in calories, and filled with things that are good for you instead of things that are bad!  Out of the two varieties I was sent, I enjoyed the Lightly Salted the most. 
Note - I was sent some of these snacks free of charge for review.   I was not required to write a positive review.  Any opinions are entirely my own.