Traveling the world has never been easier~~it's just so simple and convennient to discover the foods of other countries and cultures with the click of a mouse or through friendships developed through the social media.  This recipe comes from a really cool friend of mine, Alice Lau, whom I met on Google+~~her website 'Girl in a Food Frenzy' is just full of palate happiness.  Plus, she has this clever entertaining way of creating videos to demonstrate how a recipe is cooked! I marvel at her creativity!
So when Alice posted this recipe, and I read the story behind it, I was immediately intrigued with the history~~it was both enchanting and moving just knowing that these biscuits, never called cookies, dated back to World War I and were associated originally with the Australian and New Zealand Army Corps, hence, ANZAC.
According to Wikipedia:  It has been claimed the biscuits were sent by wives to soldiers abroad because the ingredients do not spoil easily and the biscuits kept well during naval transportation.[1] Today, Anzac biscuits are manufactured commercially for retail sale.  Biscuits issued to soldiers by the Army, referred to as "Anzac tiles" or "Anzac wafers", differ from the popular Anzac biscuit. Anzac tiles and wafers were hard tack, a bread substitute, which had a long shelf life and was very hard.[2]
Now I've 'boho'd' Alice's recipe ever so slightly because I wanted less sweetness knowing that I was going to top with possibly other things like preserves, creamed cheese or mascarpone, fruit, or mabe warm chocolate ganache.  I also thought about adding a spice like cinnamon or allspice~~maybe next time!
I promise you'll LOVE these biscuits, and maybe as you munch you'll appreciate even more so all those brave soldiers (and I'm the Mom of a soldier) around the world who defend freedom!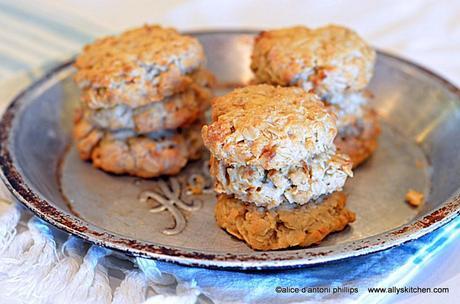 Makes:  About 12-16 biscuits
Preheat Oven to 350
What you need:
1 1/2 cup oats
1 cup self-rising flour
1 cup sweetened shredded coconut
¼ cup sugar (white or brown)
a pinch of salt
8 tbl butter
¼ cup coconut oil
1/3 cup honey
1 tbl vanilla
Optional Garnishes~~
Whipped Cream Cheese with chopped fresh mint
Raspberry Preservers
Chocolate Ganache
Ice Cream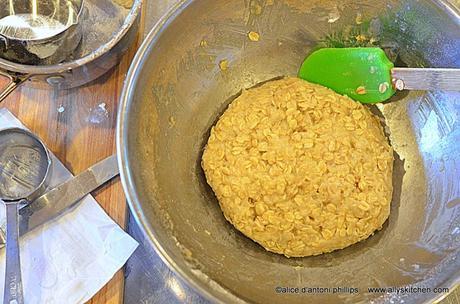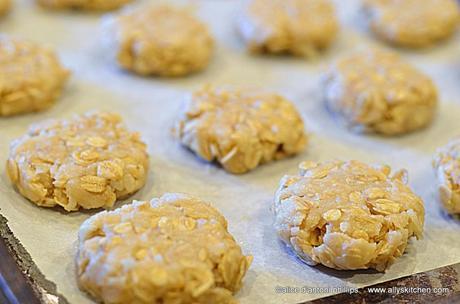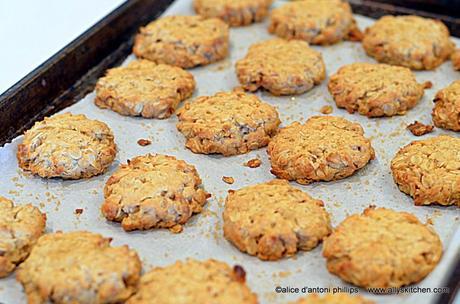 What you do:
In a large mixing bowl, combine the oats, flour, coconut, sugar, salt and blend with your fingers.
In a small saucepan over medium heat, melt the butter, coconut oil, honey and vanilla let it just start simmering.
Pour slowly into the dry mixture and blend well.  Form a ball with the thick batter.
Scoop into equal size balls (about a tablespoon), roll and place on a parchment paper lined cookie sheet.  Gently press and flatten somewhat (I used a measuring cup to do this).
Bake in a preheated 350 oven about 10-12 minutes or until somewhat golden brown.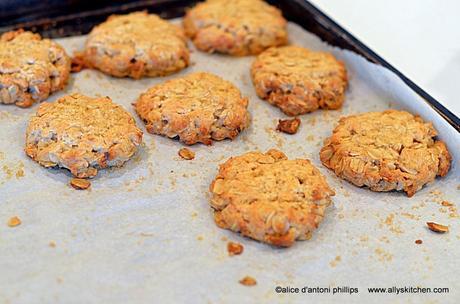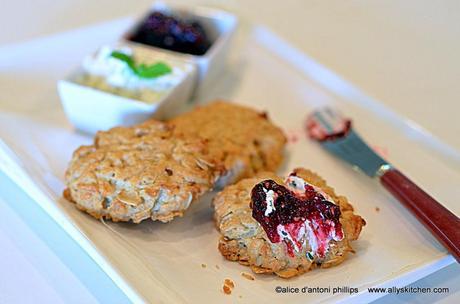 Comments
comments