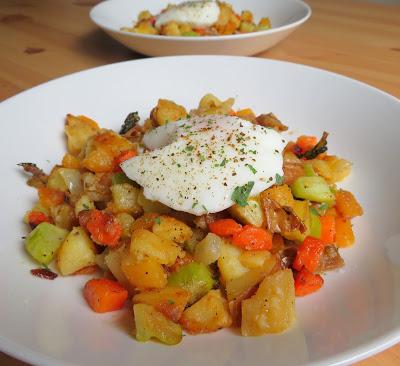 I have become very thrifty over these past weeks. Something I am ashamed to say that I should have been practicing all along.  Nothing is going to waste in my kitchen.  They are saying it could be six months until the present crisis is over and I am keen to make everything we have stretch as far as I can.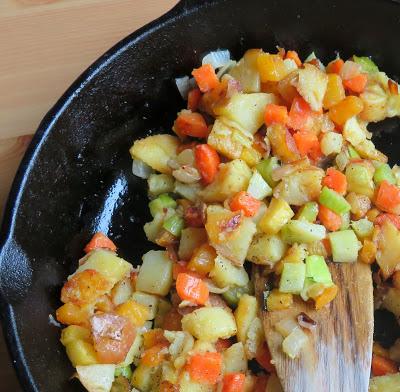 Any thing hash is a great way to make good use of just whatever you have in your refrigerator that needs using up and topping it with a poached egg, turns it into a well balanced meal, containing some carbs, plenty of veg and a protein.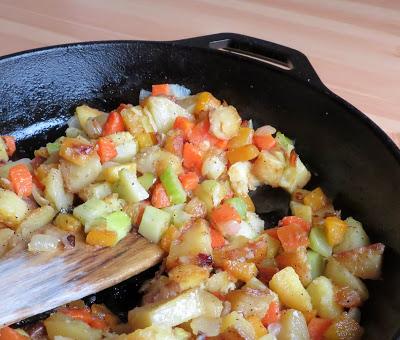 It also makes a great vegetarian meal, for those of you who are not opposed to eating eggs.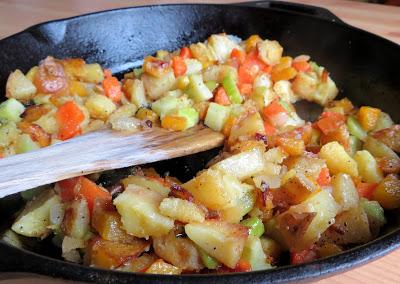 The hash is composed of whatever you happen to have in the refrigerator that needs using up.  In my case I had a baked potato left from the other day, which wouldn't have fed two people normally, but when you add a host of other vegetables to it, it becomes like the loaves and fishes and magically multiplies to feed more.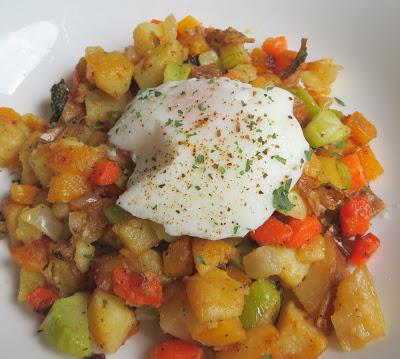 I had a head of broccoli in the refrigerator, some carrots and a swede (rutabaga).  The stems on broccoli are often wasted and thrown away.  They can tend to be a bit fribrous, but if you trim of any fribrous bits there is no reason why you can't eat the rest. You can also eat the leaves of broccoli.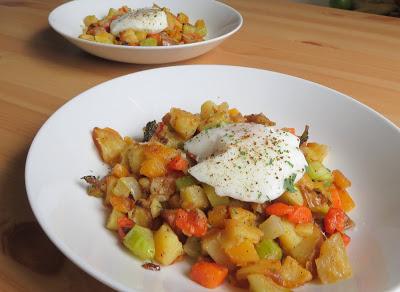 All of my veg was cut into 1/2 inch cubes and tossed together with a small chopped onion and then cooked together in my iron skillet, along with some oil and butter.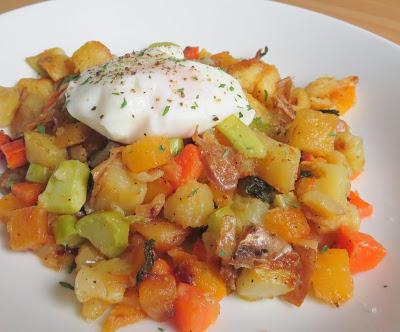 I cooked it first over low heat, covered so that the raw vegetables could cook to crispy tender and then I turned up the heat, seasoning it all with some salt and pepper, and cooking it until I had some golden brown carmelised bits.  The perfect hash.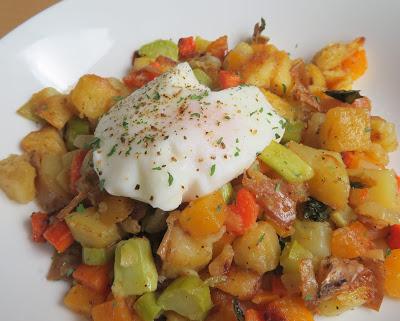 You could of course add a quanitity of chopped cooked meat to this, along with some herbs, but I didn't have any lefover roast or any other meat that needed using and so I decided to top the hash with poached eggs.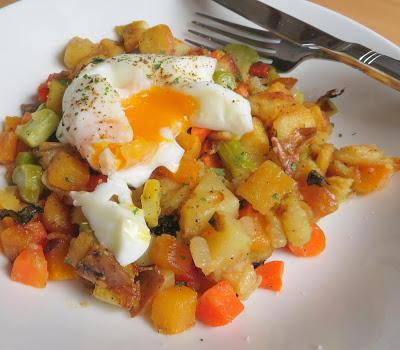 You could, of course, do a fried egg, but I figured we would both benefit from the healthier option and so I poached us each an egg.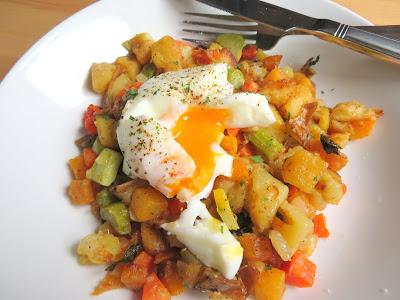 People can be a bit afraid of poaching eggs, but there is no need to be afraid really.  I have given exact instructions to give perfect results.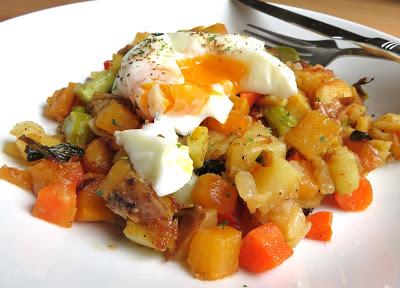 It helps if your eggs are at room temperature.  I also like to break them into a small bowl before slipping them individually into simmering water.  Don't ever tip them into boiling water or they will break up all over the place.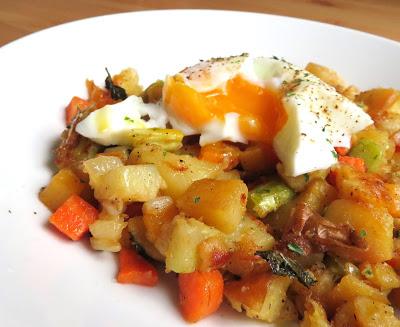 Cook them on the heat for exactly one minute, then take them off, cover the pan and let them sit for exactly ten minutes.  You will have perfectly poached eggs.  Ready to scoop out with a slotted spoon onto kitchen paper towelling.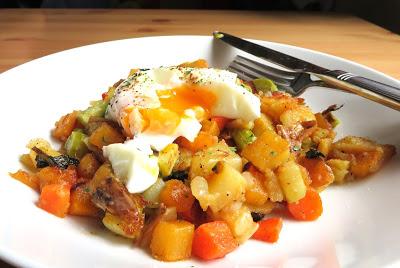 Once drained they are ready to use in any way you want.  In this case, atop a nice plate of crispy anything hash!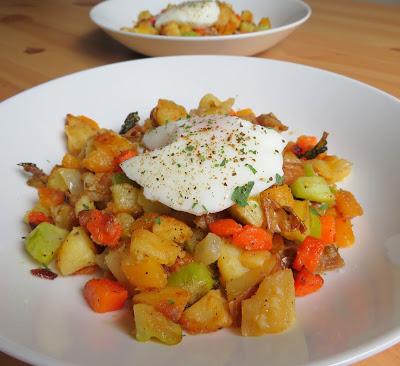 Anything Hash & Perfectly Poached Eggs
Yield:
2
Author:
Marie Rayner
A delicious supper for two which makes a good use of what's in the refrigerator
Ingredients:
2 cups of vegetables cut into small cubes (today I used a leftover baked potato, some carrot, some swede(rutabaga), broccoli stems and a small onion)
1/2 TBS butter
1/2 TBS oil
salt and black pepper
2 large free range eggs
Instructions:
How to cook Anything Hash & Perfectly Poached Eggs
Prepare your vegetables. Peel the carrots and swede, trim any fibrous bits from the broccoli stems, saving any leaves. Chop them all into a uniform size along with the potato and onion. 
Heat the butter and oil in a heavy based skillet. (I used my cast iron.) Once the butter begins to foam, add the vegetables. Todd them to coat in the fat then turn the heat down low, cover and allow to cook over low heat for about 10 minutes until everything is tender. Remove the lid, turn up the heat, season to taste with salt and black pepper and cook, turning over occasionally until golden brown in places. Keep warm while you poach your eggs. 
Have all your eggs at room temperature and break each into a small bowl before you start. Bring a pot of water, to which you have added 1 tsp of vinegar, to a slow simmer over gentle heat. Once you can see tiny bubbles on the bottom of the pan, carefully add the eggs, one at a time.
Simmer, without covering for exactly 1 minute. Remove the pan from the heat and let the eggs sit in the hot water for exactly ten minutes. (a timer is incredibly useful here) At the end of the time you should have a perfect poached egg, with a beautifully translucent and pefectly set white and a soft and creamy yolk. Remove the eggs with a slotted spoon, one at a time onto some paper kitchen toweling to drain.
Divide the hash and spoon it onto heated serving dishes.  Top each serving with a poached egg and serve immediately.
Did you make this recipe?
Tag @marierayner5530 on instagram and hashtag it #EnglishKitchenCreated using
The Recipes Generator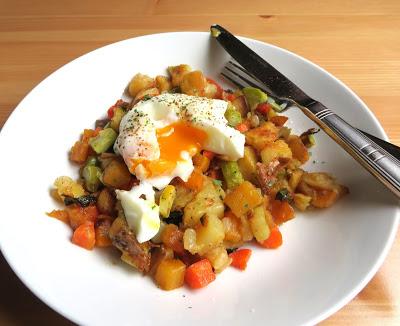 The skys have turned to pewter today and it is threatening of rain.  March is about to go out like a Lion methinks!  Oh well, so much for that old wive's tale as it came in like a Lion as well!