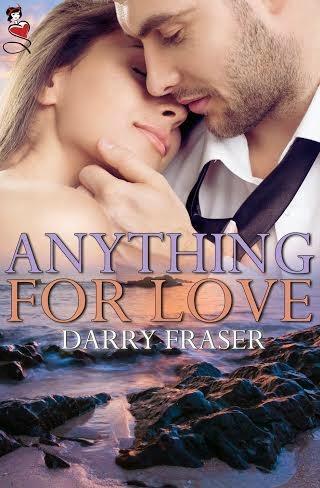 Anything for Love

by Darry Fraser

~~~~~~~~~~~~~

BLURB:

Tilla is the managing director of a temping staff agency who finds herself enmeshed in Kent Taylor's business world, which includes an IT takeover. When she decides to work in his office as one of his temporary staff members they clash, so she keeps her identity to herself. When they both decide to take a break from their crazy business lives, they have no clue it's at the same place, in the same house and at the same time, on the isolated north west coast of rugged Australis Island
She tells herself she can't bear to be near him one moment longer ... until they find a way to be together. But when he has to suddenly leave their hideaway and doesn't give her a backward glance, she realises she shouldn't have done just anything for love.
~~~~~~~~~~~~~
EXCERPTS (Please choose only ONE to use with your post):
Excerpt:
He exhaled loudly and strode out of the elevator. He had more important things to think about. And besides, Janet, his almost ex-wife had caused enough problems in the past without his having a new woman in his life.
He moved swiftly across the car park. Discharging the security system on his BMW, he opened the door and threw his briefcase into the back seat, then slid behind the wheel. He started the engine and immediately saw the new temp.
She hurried to her car, a Saab, parked two bays in front of his. He whistled through his teeth. Interesting. Not bad for a temp.
She pulled at the clips holding her hair in that school-marm roll, and long, chocolate waves floated about her face. She fumbled in her handbag for keys, flicked off the security system, opened the driver's door and bent inside. Long, sleek legs supported her as she placed her bags inside. Her skirt hitched higher as she twisted to drop her laptop over the back seat, revealing the top of her stockings.
His brows rose. His car stalled. Stockings.
He moved awkwardly in his seat. Didn't want to look. Didn't want not to look.
It'd really be something to slide a hand up each of those thighs, snap the clips open and roll down the hosiery.
Yes, sir.
He went blank for a moment and shifted in his seat.
She righted herself behind the wheel, slammed the door, started the engine and roared off.
Yes, sir.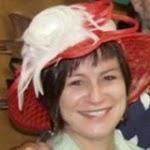 ~~~~~~~~~~~~~

AUTHOR Bio and Links:

I have been writing since a very young age. I was the one at school with the home-penned plays and stories, the entertaining ideas and the grand vision, believing I had great talent. Wrong.

I believed that because I could put words on a page in a grammatically acceptable way and tell a reasonable story that I was 'an author'. Technically, I suppose I was, but the apprenticeship as a 'writer' – to labor the difference - is a long and hard road.
One day, I had what I still call a little 'thing' – I saw my late grandfather in his World War One trench gear talking to 'me' at my desk and suddenly the words flowed and so did the short story which was published within two weeks in an Australian national women's magazine.
So I revisited all my short stories and my novel-length stories and found success again with four short stories and then two short novels in 2001/2.
Alas, life got in the way once more. I kept writing, but in the dark so to speak. I used it as a means of escape, as a retreat and I was able to create my own HEA or HFN.
Then life took another turn and I figured that I had nothing to lose. I dusted off quite a number of manuscripts and began to whip them into shape. At a serendipitous meeting with my current publisher, Nicola at SteamEreads, she agreed to read my current work at the time. It was a 67,000 word unedited novel, which she accepted. It was published in June – Money For Blood.
Since then I have had three other novels and two novellas accepted, all HEA/HFN.
I currently have four books published with Steam eReads.
Website: HYPERLINK "http://www.darryfraser.com" www.darryfraser.com
Steam eReads: HYPERLINK "http://steamereads.com.au/2013/04/meet-author-darry-fraser/" http://steamereads.com.au/2013/04/meet-author-darry-fraser/
Amazon: HYPERLINK "http://www.amazon.com/Anything-For-Love-Darry-Fraser-ebook/dp/B00IFDD9PC" http://www.amazon.com/Anything-For-Love-Darry-Fraser-ebook/dp/B00IFDD9PC
Amazon UK: HYPERLINK "http://www.amazon.co.uk/Anything-For-Love-Darry-Fraser-ebook/dp/B00IFDD9PC" http://www.amazon.co.uk/Anything-For-Love-Darry-Fraser-ebook/dp/B00IFDD9PC
Kobo: HYPERLINK "http://prod-www.kobobooks.com/ebook/Anything-For-Love/book-hayquIobPEaKaq_upEXVpA/page1.html" http://prod-www.kobobooks.com/ebook/Anything-For-Love/book-hayquIobPEaKaq_upEXVpA/page1.html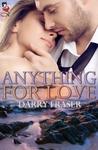 Anything For Love by Darry Fraser
My rating: 4 of 5 stars
Anything for Love by Darry Fraser is a 2014 Steam ereads publication. I was provided a copy of this book in exchange for an honest review.
Anything for love is a really fun contemporary romance that kept me amused all the way through. Kent Taylor was riot and he and Tilly have some hilarious screwball miscommunications from the get go.
Right from the start there is a bit of mistaken identity and Tilly has a wardrobe malfunction we can all identify with. Then Tilly finds herself working as a temp in Kent's office when she is actually a business owner herself. As she tries to get a nice relaxing vacation in she finds herself sharing space with none other than Kent Taylor. In fact, Tilly can't seem to shake Kent no matter now hard she tries.
Sharp wit and dialog pepper the story keeping the reader highly entertained. Tilly and Kent have great chemistry and will make a great pair in the business world and as lovers. While there are secondary characters they are mostly in the background and the focus stays on Tilly trying to meet Kent's demands and pass off her tiny little deception until she has no other choice but to confess.
This book is not very long, but it will have you smiling and forgetting your troubles for awhile. This is very light reading, nothing too serious or angsty . This book is intended to be enjoyed and no, there is nothing here that will set the literary world on fire, but the book is well written and evenly paced and the author does have potential. This one gets 4 stars.
GIVEAWAY DETAILS:


Darry will be awarding a $25 Amazon gift card and an ecopy of Berry Flavours to a randomly drawn commenter during the tour.

Follow the tour and comment; the more you comment, the better your chances of winning. The tour dates can be found here: 




http://goddessfishpromotions.

blogspot.com/2014/03/virtual-nbtm-book-tour-anything-for.html