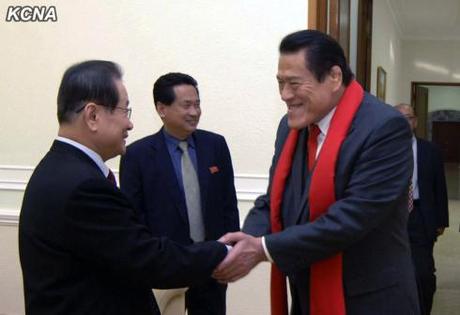 Antonio Inoki (R) shakes hands with KWP Secretary and Director of International Affairs Kim Yong Il (L) on 15 January 2-13 (Photo: KCNA).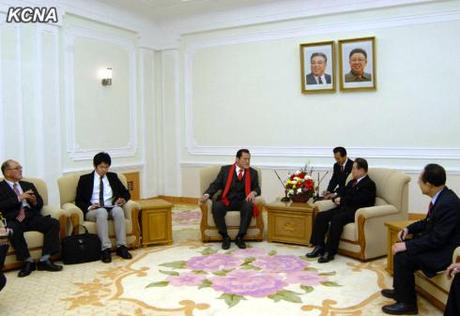 A delegation from Japan led by Antonio Inoki meets with KWP Secretary and Director Kim Yong Il on 15 January 2013. Kim Yong Il also serves as an advisor to the DPRK-Japan Friendship Association (Photo: KCNA).
DPRK state media reported that Antonio Inoki (a.k.a. Kanji Inoki), a retired professional wrestler and member of Japan's upper house the House of Councilors, met with Korean Workers' Party [KWP] Secretary and Director of International Affairs Kim Yong Il on 15 January (Wednesday).  According to KCNA, Inoki "specified non-profit undertaking corporation of Japan" during his meeting with Kim.  Inoki also presented a gift to Kim Jong Un (Kim Cho'ng-u'n), which was received by Kim Yong Il.  Inoki and his part arrived in the DPRK on 13 January (Monday) and paid tribute at the statues of late DPRK President and founder Kim Il Sung (Kim Il-so'ng) and Kim Jong Il (Kim Cho'ng-il) on Mansu Hill in central Pyongyang.  According to Jiji Press, Inoki stated during the trip "that he aims to confirm which direction the reclusive country will take" and that interactions with DPRK officials were "expected to exchange views on the Inoki side's proposals to send a mission of Japanese lawmakers to North Korea and promote sports exchanges between the two countries."
Inoki last visited the DPRK in early November where he had a cordial meeting with former top DPRK official Jang Song Taek (1946-2013).  The Jang-Inoki meeting was Jang's last observed public appearance before he was expelled from the Korean Workers' Party on 9 December 2013 and subsequently executed following a special Ministry of State Security tribunal on 13 December 2013.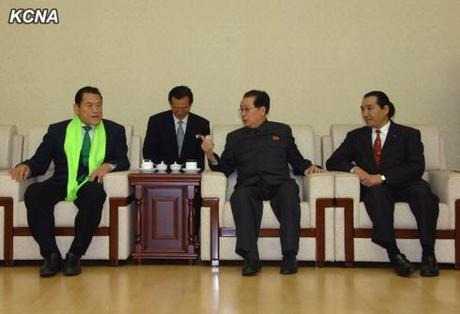 Jang Song Taek (C) at his last observed appearance on 6 November 2013 meeting with a Japanese sports delegation in Pyongyang including Antonio Inoki (L) (Photo: KCNA).
Filed under: Uncategorized