The sculptor and painter Antoni Tàpies was born (Barcelona 1923) into a well-to-do Catalan publishing dynasty and it was here and how his love of reading started. Lung disease left him unable to continue his law studies but did allow him to exhibit circa 1940, in what turned out to be the start of a long artistic career, his earliest pieces which featured mainly graphic art.  Due to the destruction  wrought by the Second World War and the impact of the atomic bomb, he expressed, through innovative new techniques, his interest in dust, earth, matter and atoms, all elements that became intrinsic to his later textured paintings.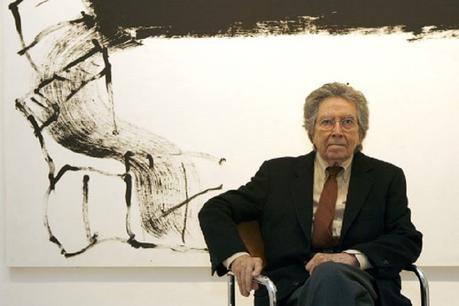 Antoni Tapies. Image available at totallyhistory.com

H
eavily influenced by 
Klee
 y 
Miró,
 his iconographic compositions increased to now include greater expressivity and communication using dense textures as well as some geometric elements. 
Tàpies
'
 international reputation was well-established by the end of the 1950s 
whilst in the 1970s
,
 there began to appear in his work the first symbols representative of his Catalan identity, hand and 
footprints, handwriting and everyday objects
. 
Tàpies
 was an artist of well-known political compromise who reflected his views through his art. His paintings served to denounce General Franco's dictatorship  up until the restoration of the right wing state in the 80's, at which point he revamped his proposals and techniques using spray paint, varnish or foam to create bronze sculptures. In this period, he was very much under the influence of Eastern art and philosophy and accentuated his emphasis on the identities of Nature and of the human being but also on "matter" or the universe that was then being discovered by a new generation of scientists.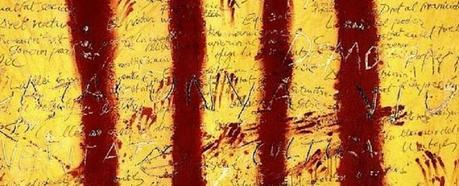 "El espiritu catalan" (TheCatalan spirit)
. Image available at 
www.laverdad.es
Antoni Tàpies 
is also remarkable for his significant repertoire of books, dossiers and essays, having collaborated in this field with other writers and poets such as 
Bonnefoy,  Bouchet, Dupin, Guillén, Mitscherlich, Valente 
and
 Zambrano. 
His published works have been translated into many languages among which stand out  "
The Practice of Art"
,  "Personal 
Memory"
 or 
"Reality As Art"
 and the more recent 
"Art and Its Places"
 along with "
The Value of Art
" in 2001.
With regards to 
Tàpies' 
work in 1955, the most important was 
"Gran Pintura Gris"
, a beautifully balanced piece which demonstrated to the III Hispanic-American Art Biennale in Barcelona his huge potential.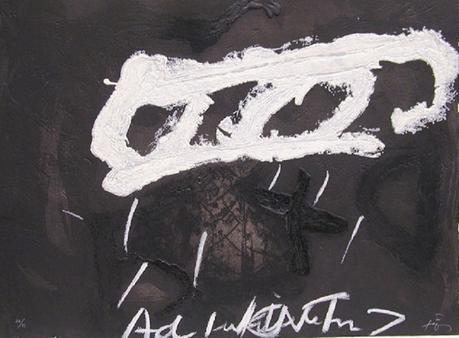 "Gran pintura gris"
 (Large gray painting)
. 
 Image available at 
www.tiempodehoy.com
In 1963, his painting entitled 
"Blanco con signo rojizo"
 was sold for 1.2 million euros at 
Christie's
auction
house in London, making him the most highly acclaimed and in-demand Spanish artist of the time. It is also notable that in 2014 his painting 

"
Large ochre with incisions

"

 sold for a record £1,650,500 (over 2 million euros).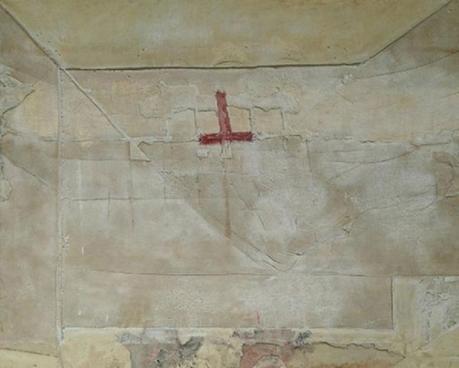 "Blanco con signo rojizo"
 (White with red sign)
.  Image available at 
www.tiempodehoy.com
Of special note
 i
n
"Materia sobre tela y collage de papel"
, 
painted while
 in Ecuador in 1964, are the cracked, sandy surfaces and the various 
crushed materials. This was the defining moment when 
Tàpies
 made his mark amongst Catalunya's finest and became, alongside his genius compatriots  
Dalí
 y 
Miró
, part of an elite trio of Catalan artists in the latter half of the 20th century.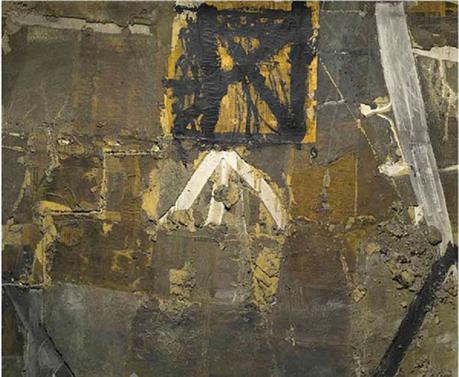 "
Materia sobre tela y collage de papel" (Matter on canvas and paper collage). Image available at 
www.tiempodehoy.com
From 2008, at the age of 84 and now nearing the end of his life, another painting that stands out is 
"Grattage Rojo"
. Here we see depicted two severed feet which represent the amputated limbs of human memory. In the following years, 
Tàpies
 would endeavour to transmit his reflections on the subject of pain, 
dulling their impact with Buddist-inspired influences and letting us into his thoughts on the physical and the spiritual.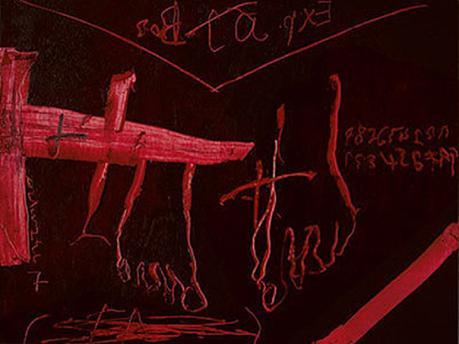 "Grattage Rojo" (Red grattage). Image available at www.tiempodehoy.com
In addition to 1963's 
"White with red sign", o
ther of 
Tàpies
'
 paintings that have reached record prices at auction are: 
"Azul LXIX", 
an oil and sand depiction in shades of blue
of what appears to be a galaxy amongst ruins that sold for 1.1 million euros 
at 
Christie's
 in Spring 2007, and made the cover of newspapers worldwide. Likewise, the collage
"Tierra, Tela y Papel"
with its geometric lines, crosses, arrows and stones representing the wear and wastage of a half-finished process also sold for a six-figure sum in 2011.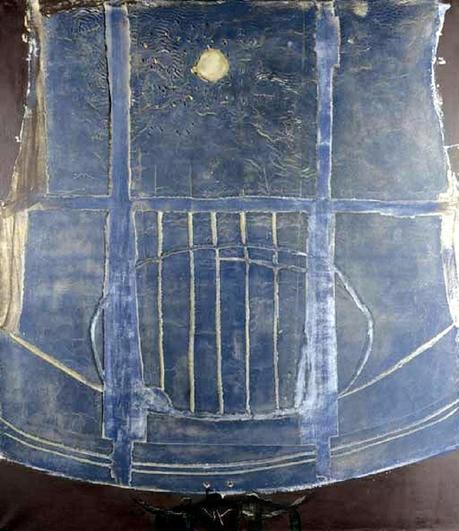 "Azul LXIX" (Blue LXIX). Image available at www.tiempodehoy.com
Antoni Tàpies
' oeuvre has been exhibited or is on display in the world's greatest museums and art galleries, for instance: the 
Museum of Modern Art
 and the 
Guggenheim Museum
 in New York; the Georges Pompidou Centre in Paris; The 
Museum of Contemporary Art
 in Barcelona and the
Queen Sofía Museum
 in Madrid; and also in Berlín, Los Angeles, Zurich and London, to name but a few
.
In Barcelona, 
Tàpies 
created his eponymous Foundation
 with a view to promoting awareness of and the study of contemporary art and basing itself on an analysis of the human conscience in the modern world.
 The artist himself donated 300 of his own works to the Foundation.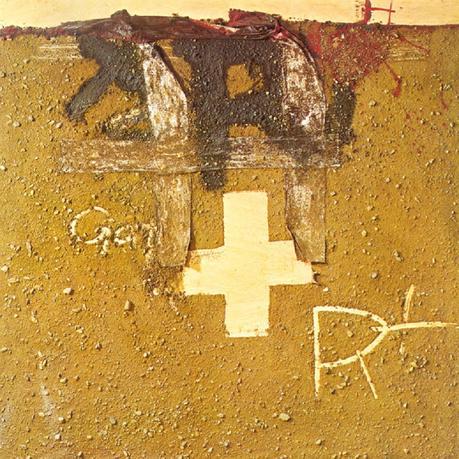 "Cruz y Tierra" (Cross and Soil). Image available at www.repro-arte.com
His prolific career distinguishes 
Tàpies
 as the great innovator of both Spanish contemporary art and 
avant-garde art of the 20th century. 
He died in 2012 at the age of 88. Always true to his roots and using a diverse pictorial language, he was inclined towards traditional themes, almost obsessively so, but always re-evaluating his materials to produce accessible works in the social and political spheres. He translated perfectly his philosophical concerns and consolidated his thoughts with an artistic language that kept evolving over time.

{youtube}K3pbV4GmDLA|600|450{/youtube}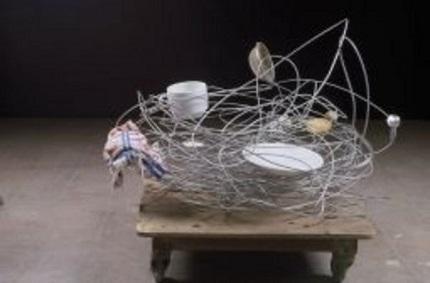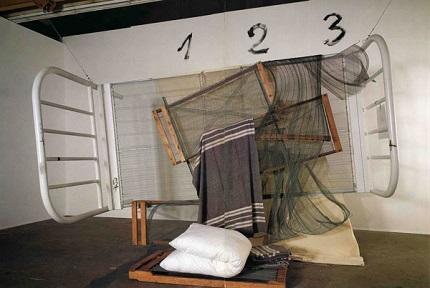 Image (right): Bed, available at www.tallerdecartasdeamor.wordpress.com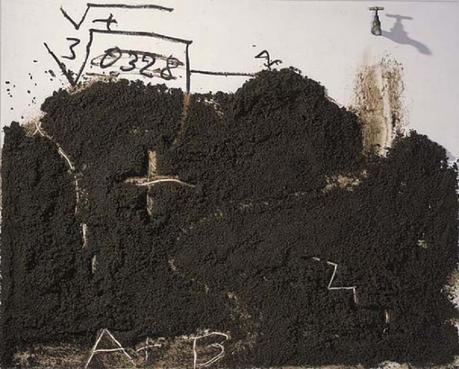 Image: Antoni Tàpies, available at www.trianarts.com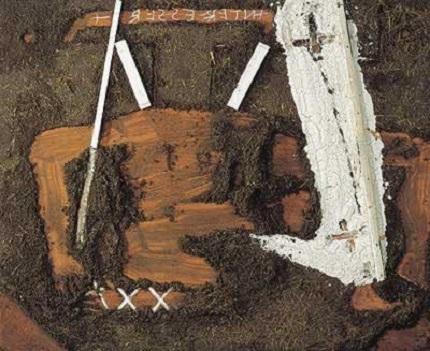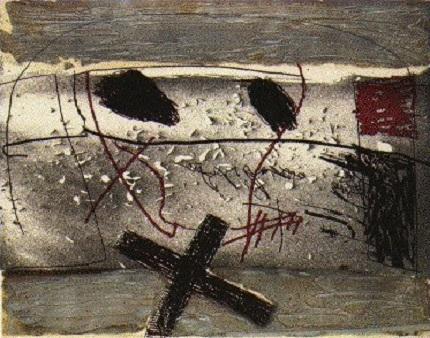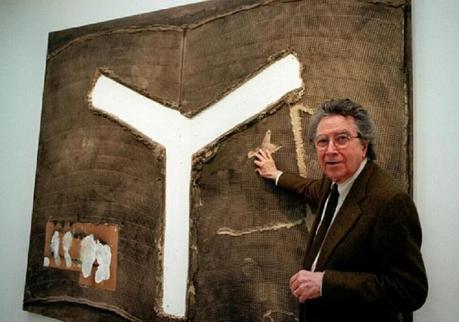 (Translated from the Spanish by Shauna Devlin)
- Antoni Tàpies: Biography, Works and Exhibitions -                     - Alejandra de Argos -