Most tourist guides will tell you to avoid the capital Guatemala City when visiting Guatemala since there's not much to see and take a bus to nearby Antigua, a treasure of colonial architecture in Central America. All those tourist guides are of course right :).
Antigua is located at around 100km from Guatemala City and was founded in 1543. It was the capital of the region until an earthquake stuck it and the city had to be rebuilt.
The earthquake was also a good thing for the earthquake, all the property developers started avoiding the city and now Antigua still has that unmodernized colonial atmosphere.
What can you do in Antigua? Simply walk and discover the colourful, happy streets of the city and check out the shiny churches that combine the catholic faith with the old Mayan traditions.
During the week-end tourists from the capital flood the city  but on the regular working days the old city streets are quiet and peaceful, a slow lifestyle is indeed a virtue in this part of the world.
Antigua is the center of Guatemalan tourism, you can book a whole range of tours that even stretch to neighbouring Honduras. You can use of course the local transport system consisting of the popular chicken buses, old USA school buses used now all over Guatemala or you can book a special gringo shuttle to the destination.
Some of the things to visit in such a trip are: the city of Panajachel near the Atitlan lake, the Pacaya Volcano or the Mayan ruins of Tikal.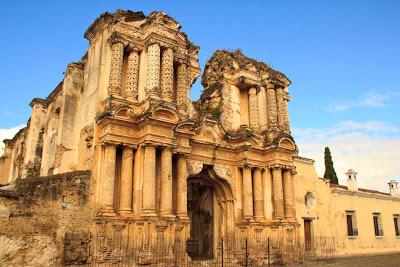 Earthquake affected building, Antigua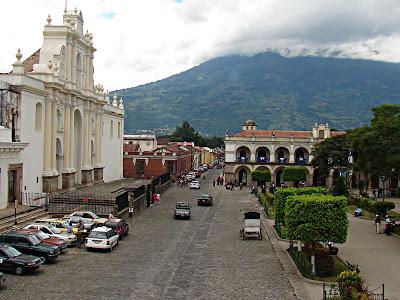 Antigua Cathedral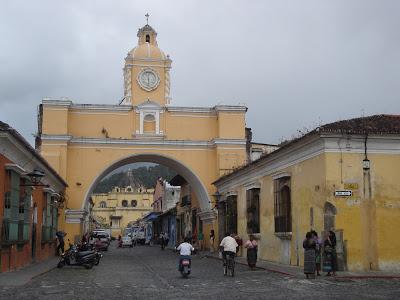 Antigua old city streets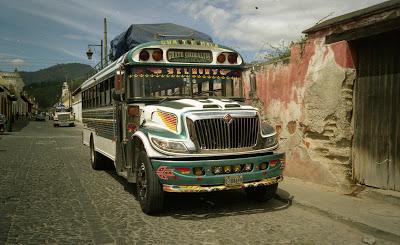 Guatemala chicken bus