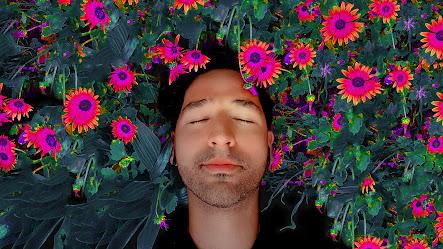 "Spectoral can be relied on to deliver some highly detailed productions with unshakable earworm qualities at their core" -Dave Ruby Howe, Music Director, Triple J Unearthed
"Hints at an artist destined for some big stages" -Pilerats
Disrupting expectations within its opening bar, LOVESICK has a corruption to its electronic backbone that compliments its frenetic story of betrayal. It's the newest single from revered Australian producer Spectoral, who's spent much of the last two years busily readying an enormous debut album featuring no fewer than fifteen (!!) guests. Two of these feature on LOVESICK, with a third behind the scenes.
"I'm three EPs deep into my career, but only now do I feel like I've really arrived on the scene" says Spectoral from their light-filled studio, overflowing to the brim with Devil's Ivy, Schefflera, Monstera, Palms and Pilea. Studio Daylight, as it's named, resembles more of a garden nursery than a state-of-the-art pop production house, but don't be fooled.
"The plants thrive off the music, and my creativity thrives off the plants, so we have somewhat of a symbiotic relationship" says the producer when asked about the aesthetic.
So where did the idea for LOVESICK come from, and where is its place in the upcoming album?
"The hook is where that track began, and that hook is actually the brainchild of Canadian / Australian artist Ryan Cruise. We probably wouldn't have a song at all if it wasn't for that melodic vocal hook coming at me so god damn infectious in the first place. It planted the seed and the potential grew from there."
"The rest of the song is a true story of sorts" the producer says. "The words come from life, and I think of the song as the silver lining born in the aftermath". In fact, the whole album is an aftermath, and LOVESICK is one key chapter in the larger story it will tell at the end of this year with any luck.
The influence of ultramodern contemporaries like SEBASTIAN PAUL, Elijah Hill, Golden Vessel, BAYNK and NICOLOSI are apparent on LOVESICK, and Spectoral doesn't shy away from admitting there's a real fandom there. "Oh yeah for sure, they come up in my Spotify radio suggestions all the time. It's hard not to be both wowed and also go, like, 'challenge accepted' whenever I hear something totally incredible from those artists, which is a lot.
"But I also consider myself a collaborator at heart which is why I've got so many underground names featuring alongside me on the album. It's that 'whole is greater than the sum of its parts' thing I guess. Take LOVESICK for example, it wouldn't be anything if not for what Megadead and Tusanxmi bring to it. Megadead has this knack for pulling incredible sound design out of nowhere and I doubt it'll be the last time we do something together. And Tusanxmi, I knew right away when I heard her vocal on Hinata and Summer Days that I had to work with her. Sure enough she's knocked it out of the park with her verse on LOVESICK, it's lifted the entire thing to five stars for me."
LOVESICK releases everywhere on June 30. In the meantime, you can hear it below.
https://soundcloud.com/spectoral/lovesick-spectoral-megadead-tusanxmi/s-ZUo2eqdck3B?in=spectoral/sets/untitled-playlist/s-A2rAisAcNHC&utm_source=clipboard&utm_medium=text&utm_campaign=social_sharing