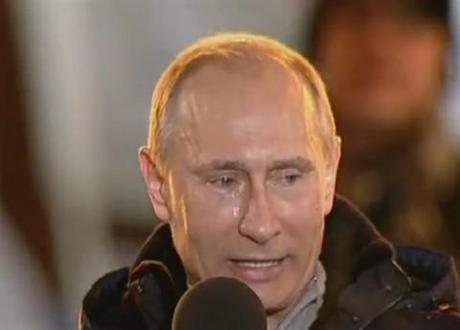 Protest focus: Russian President Vladimir Putin
The background
Tens of thousands of protesters demanding political reform marched through Moscow on Russia Day, despite a government crackdown on the opposition. Anger towards the government has been growing in Russia following allegations of fraud in the 2011 parliamentary elections and Vladimir Putin's return to the presidency.
Putin approved a law sharply increasing fines for anyone taking part in an unsanctioned protest, while police raided the homes of prominent anti-government activists. According to the BBC, several independent media websites went down ahead of the Russia Day protest.
So what's next for the Russian protest movement?
Read more about the background to the Russian protests at The Periscope Post.
A view from the Russian opposition
"The mood in the opposition has grown increasingly tense after the authorities' crackdowns," reported Anna Nemtsova for The Daily Beast from Moscow. "Putin left people like me with two options: one is to quickly run, with whatever we have time to pack up. The other is to protest against him, make him and his gang pack up and get out of Russia," said Russian activist Mariya Baronova.
Protests show no sign of ending
"The protesters have no single leader – on purpose. This prevents Putin from simply jailing the main organizers. It also reinforces the fact that the protests represent popular feeling," said a Christian Science Monitor editorial. In the future, Russian protesters may need to develop greater organisation, in order to have a chance at winning local elections – and also winning over Russians in rural areas.
Putin facing generation gap
"Putin's problem is that he faces a generation that was not alive under Soviet rule," said a Guardian editorial. "Unlike their elders, they do not fear the state, nor do they feel the nostalgia for Soviet days that Putin exploits." Putin's aim, therefore, is to instill greater fear and respect in this generation of Russians; nobody knows where his efforts may lead.
Russia has 'hallmarks of healthy democracy'
Putin may have taken some seemingly "drastic measures" during his first term as president, wrote Robert Bridge at Russian government-funded RT, but this was understandable given the circumstances: "Russia was on a rollercoaster ride when Putin first came to power. It would stand to reason, therefore, given the extreme conditions that the country was facing at the time, that an extreme response was unavoidable." Now, the situation is different, said Bridge: "Russia is showing all the hallmarks of a healthy democracy, with even some colorful protests and political parties under its wings."