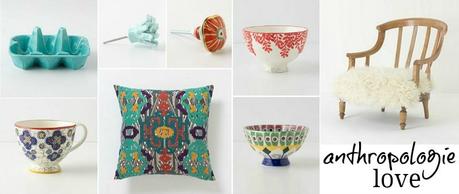 Since moving into our flat back in June last year, I've been on the constant search for gorgeous bits to make our flat a home. Anthropologie... you've answered all my prayers!
Rich and I aren't into things looking perfect. We haven't stuck to any particular theme with the flat, or with any room! But, we do agree on decorative items with an Eastern influence... a throw from Bali, embroidered and embellished cushions, wall hangings and lots (and lots) of elephants! I don't like things being too matchey matchey - something I guess I've picked up from my parents whose house has a very eclectic style. As much as I love the odd Cath Kidston-esque item, I couldn't live in a whitewashed home. Colour, patterns and texture please!
You can see why Anthropologie appeals to me! I love the bowls - would love to have a set of different designs, and the same goes for the gorgeous tea cups. Want want want!
What do you think of Anthropologie's home wears?