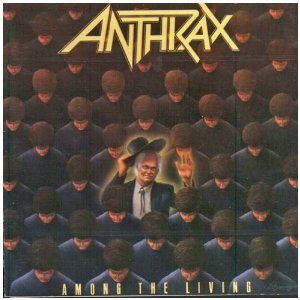 I first heard this cassette in Phoenix, AZ, after reading about them in RIP magazine (rest in peace, ha)--( "...just listening to this record will make you break out in a sweat"*) in the summer of 1987.
I didn't get the breakneck (i.e., fast as shit) tempo at all; it sounded like noise to me. I listened to it over and over and over and over again until it "clicked."
And-- it really did click.
I love this cassette (which still works in my 20-year-old-caddy and its cassette player);
A quarter century later, I hold that this is better than all the other "big four" and their commonly-held best (meaning Reign in Blood and Peace Sells...) except, (I hate to add) than Master of Puppets.
And I love those other albums. Their cassettes still work and I still play them when I'm MP3-less.
And I hate Megadeth and Mustaine-- but from someone who still begrudgingly loves Peace Sells...?
Among the Living is genuinely better.
Now don't get me wrong-- I'm a full-on genuine Anthrax fan (I fully believe they're the only member of the "Big 4" who continued to evolve over 20 years; I love Persistence of Time (as their #2 album) and Sound of White Noise (as #3)-- but Among the Living should be (and mostly is) legendary.
Megadeth disappeared behind Mustaine's junkie/Christian persona; Slayer couldn't give less of a shit about musical evolution; and Metallica... well... you know Metallica 2012.
But Anthrax, even when they fail, are still obviously trying to change and become something more. They're true artists, to me. They risk.
True story: "A Skeleton in the Closet" was the first riff I learned to play completely correctly.
This album is still just as fast and mean and stuff released decades (literally!) later... "I am the law," and "A.D.I./ Horror of it All" are still genuine metal monsters, and Scott Ian's tone and Charlie Benante's simple yet-metronome-like drum parts are their perfect foil.
--Horn
*I still remember the add copy, 25 years later!