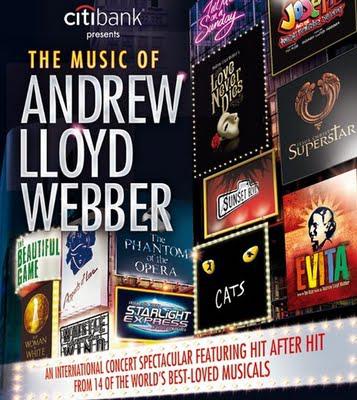 No need to introduce the man, of course--those 16 musicals of his, and the cavalcade of irresistible melodies they have spawned through four decades, more than make the case for him.
Now, the blockbuster Lloyd Webber songbook is coming to Manila via a supersized revue-concert conceived in Australia, greenlighted by the man himself, and to be performed by top-notch Australian musical-theater performers, including Delia Hannah, the Grizabella temporarily replaced by Lea Salonga in the Manila run of Cats last year (also from the same producers). Short of watching any of Lloyd Webber's full-length musicals (a privilege many of us are unable to enjoy in Manila), this theatricalized concert distillation of his remarkable body of work would surely do.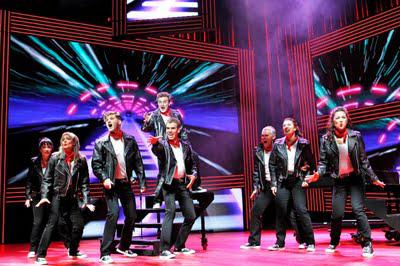 From the press announcement: Through state-of–the-art technology, audiences will be swept from the avenues of Broadway to the magnificence of Eva Peron's Argentina, to the speedways of "Starlight Express," in a dazzling journey through the many settings of Andrew Lloyd Webber's greatest works. All the big moments from "Evita," "The Phantom of the Opera, "Cats," "Jesus Christ Superstar," "Joseph and the Amazing Technicolor Dreamcoat," "Sunset Boulevard," "The Woman in White," to the current "Love Never Dies," will be there.
The Music of Andrew Lloyd Webber, directed by Stuart Maunder with live orchestration by Guy Noble, will run for 13 performances at the CCP's Tanghalang Nicanor Abelardo (Main Theater) from June 24 to July 3, 2011. It's presented in Manila by Lunchbox Theatrical Productions, David Atkins Enterprises, All Youth Channels and Concertus in association with Andrew Lloyd Webber's The Really Useful Company Asia Pacific.
For tickets: TicketWorld 8919999 or www.ticketworld.com.ph. Bambi Rivera-Verzo,Managing Director of Concertus, Inc. 0917-5370539/4038646/4038678, or e-mail [email protected] Or Dincee Caluag, Concertus Media Relations Officer 0922-8353528/4038646/4038678, or e-mail [email protected], [email protected]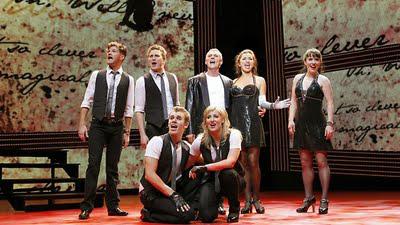 PLUS: If you still can't make it to this show but are dying to have your fill of Lloyd Webber anyway, check out the numerous CD compilations of his hits that are widely available out there (he's not the most commercially successful musical-theater composer in history for nothing). Or, you can take a peek at two DVDs that offer roughly the same concept as the upcoming Manila show--a greatest-hits songfest where Lloyd Webber songs are sung mostly concert-style or, in rare cases, recreated along with the specific scene underpinning the melodies (eg, Glenn Close as an in-character Norma Desmond in Andrew Lloyd Webber: The Royal Albert Hall Celebration).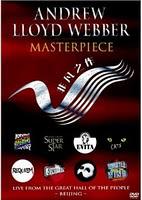 There's Masterpiece: Live in Beijing, where a troupe similar to the one that's about to perform in Manila travelled to China's capital in September 2001 to wow a highly appreciative Chinese audience at the cavernous Hall of the People. Elaine Paige was the only marquee star in a cast that also included soloists Kris Phillips (Fei Xiang), a Chinese-British performer; and Tony Vincent--Simon the Zealot in the 2001 video version of Jesus Christ Superstar. An excerpt--the electrifying Macavity from Cats: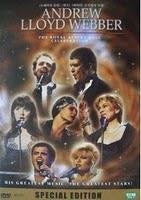 Masterpiece came three years after the much grander Royal Albert Hall Celebration, where Paige had stars of comparable wattage to contend with, among them Close, Sarah Brightman, Michael Ball, Kiri Te Kanawa. Antonio Banderas, glowering hammily both as Che and the Phantom in his three numbers (Oh, What a Circus/High-flying, Adored and The Phantom of the Opera) also made an appearance. Ahem, there's no excuse for any musical aficionado hereabouts not to have seen this show. The DVD is practically everywhere!
My favorite part of the show--you might have guessed by now--is the magnificent Glenn Close as Norma Desmond, who, though rather weak vocally (that is, compared to other Normas such as Patti LuPone, Betty Buckley, Paige herself, even Diahann Carroll) owned the part completely through her near-blackly comic, larger-than-life take on the role. She had to be in costume for this concert, she said, because she always thought Norma's two big musical numbers were the equivalent of monologues. Spoken like a true actress. Watch her nail that conviction home: