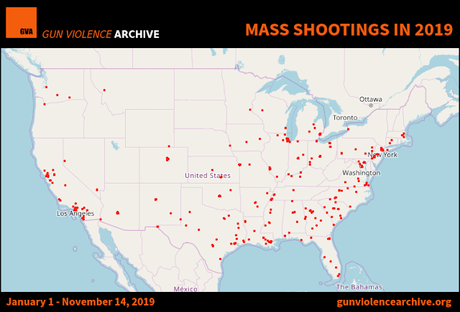 There was another school shooting in the United States on Thursday. It marked the 366th mass shooting in the United States in 2019 (and there's still a month and a half to go before the year ends).
This latest shooting was at Saugus High School in Santa Clarita, California. Five students were shot (and as I write this at least two have died). The shooter, a 16 year-old student was also shot and being treated at a hospital.
366 mass shootings (a shooting in which at least four people were shot) is far too many for any country -- even a large country like the United States (which has more guns than people). This is an epidemic of gun deaths (34,053 so far this year) that does not happen in any other developed nation.
It does not have to be this way. There are some reasonable and constitutional laws that could prevent many of these shootings and deaths. Several bills have been passed by the Democratic-controlled House of Representatives, but the Republican-controlled Senate has blocked those bills (including one that would require a background check on all gun buyers). The Senate refuses to debate or vote on those bills.
Republicans in Congress have nothing to offer but "thoughts and prayers". That's not good enough. It won't bring back those killed (that could have been prevented) and it won't prevent future mass shootings or gun deaths. They must be voted out of office, since NRA money is more important to them than the lives of American citizens.