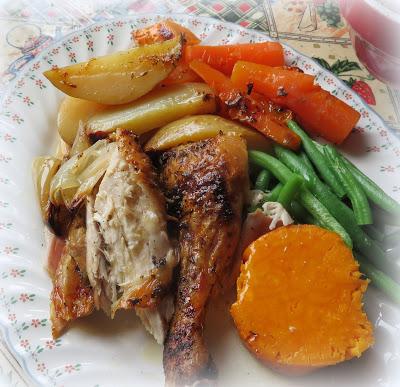 One of our favorite roast dinners has to be that of Roast Chicken.  We never tire of it.  You have the lovely roasted chicken and vegetables on the day, and then leftovers to use in a variety of ways afterwards.  Chicken salad, sandwiches, fried rice, casseroles.  Not only that, but you also have the carcass to make a delicious soup with if you are really keen and a thrifty person.  A roasting chicken is really good value.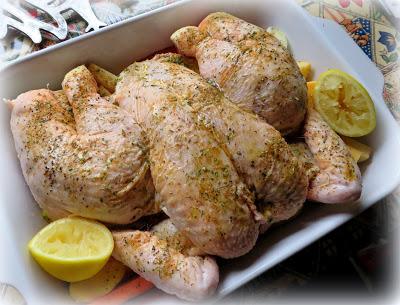 Today I spatchcocked a lovely free range chicken prior to roasting it.  Spatchcocking is a technique which gives you a succulent chicken, which is roasted in a fraction of the time it takes to roast it whole, and its not really hard to do.

1.  Using a sharp pair of kitchen scissors cut down along both sides of the back bone and neck and discard.
2.  Using the heel of your hand press down very firmly on the top of the chicken breast, cracking the bone and flattening it.
3. Tuck the legs in towards the breast and along with the wings, and place the bird flesh side down in your roasting tin.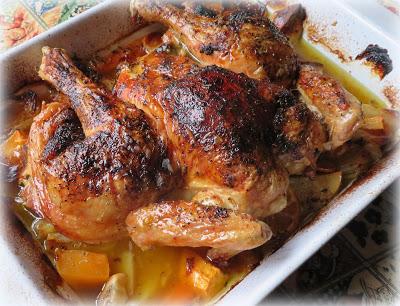 It might also be referred to as butterflying. Whatever term you choose to use, what it does is give you a whole flattened bird which is easy to roast or grill and cooks in a fraction of the time as a whole one.  Its really not hard to do.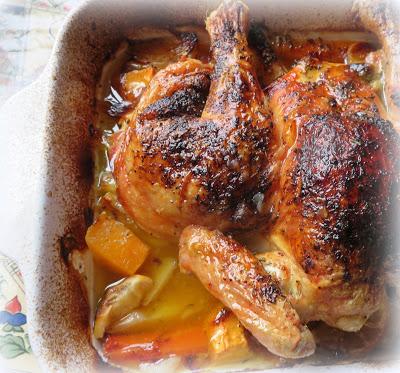 Today I chose to roast it on top of a bed of vegetables which acted as sort of a trivet and also absorbed some of those lovely chicken flavours . . .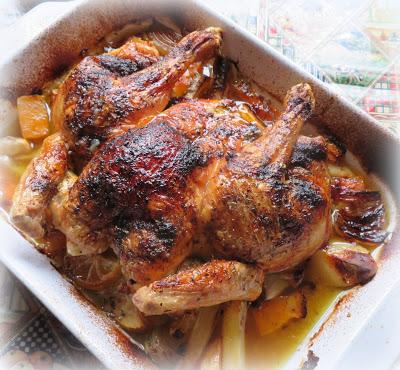 Potatoes with the skin left on and cut into wedges  . . .  chunks of swede . . . (turnip or rutabaga)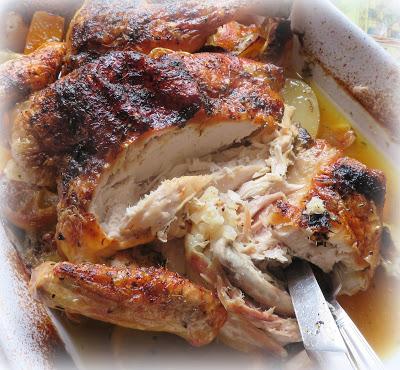 Carrots, peeled and cut into chunks  . . .  onion, peeled and sliced . . .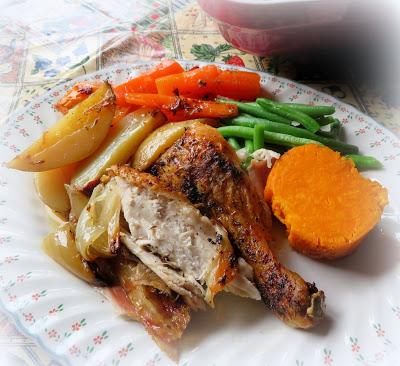 Peeled cloves of garlic, halved and scattered amongst the veg  . . .  and some sliced lemon.
The garlic and the lemon help to flavor the vegetables as well . . .  I also added some thyme, salt and black pepper . . .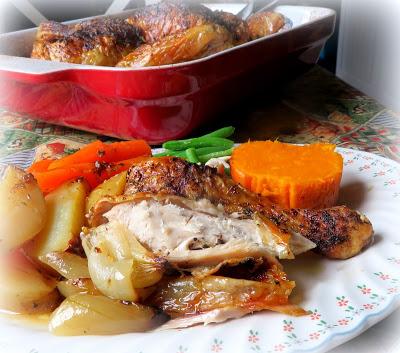 I like to season the chicken the chicken on both the inside and outside with some salt and black pepper, and thyme.  I also push some butter and garlic underneath the skin of the breast, which helps to keep it moist and flavourful.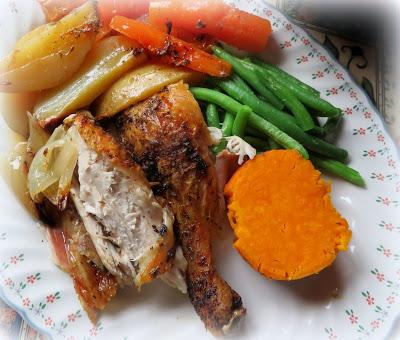 Because it cooks a bit faster, you can have your dinner on the table that much sooner . . .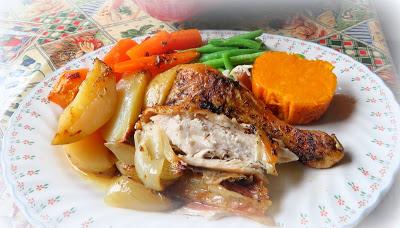 And your vegetables are done at the same time as the chicken.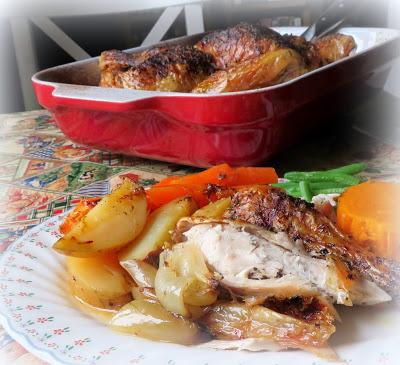 You roast it at a high temperature for about half an hour, add some chicken stock and roast for a further hour or so . . .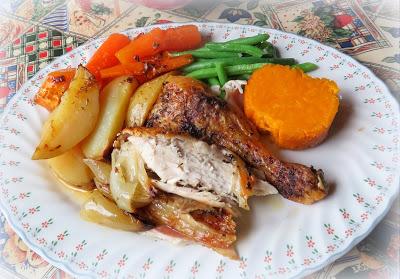 It really is delicious . . .  tender, moist and flavourful . . .  succulent with a lovely crisp skin  . . .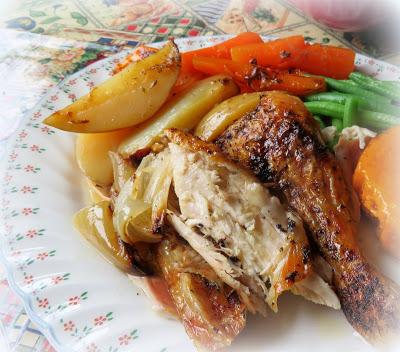 Today I stuck a sweet potato into the oven to roast while the chicken was roasting . . .  we like roasted sweet potatoes.  It was a pretty large one . . .  I also cooked some green beans to serve along side.  We like green beans and it really lifted the colours of the finished dish.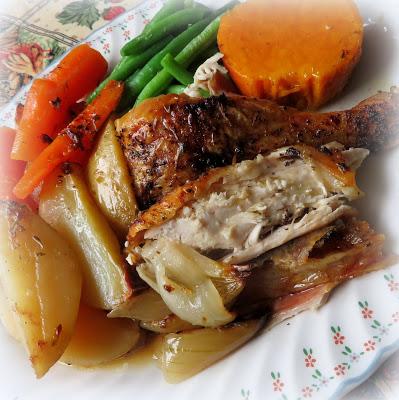 This is a really fabulous dish.  Tender roasted chicken with perfectly cooked vegetables and some moreish lemony/garlicky juices to spoon over top. What more could you ask for?
Another Roast Chicken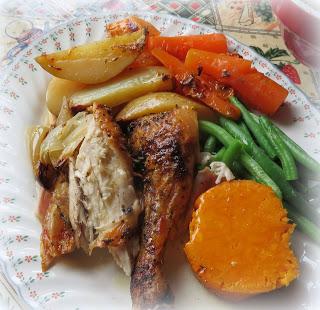 Yield:
4
Author:
Marie Rayner
Crispy skin and juicy succulent flesh.  The vegetables cook along with and are flavoured by the chicken, lemons and garlic.
ingredients:
1 medium whole free range chicken, back bone removed and spatchcocked
2 lemons,  one cut into slices, seeds discarded, the other halved
1 large onion, peeled and sliced
4 cloves of garlic, peeled and halved
3 large potatoes, unpeeled but cut into wedges
2  medium carrots peeled and cut into pieces
1/2 small swede (turnip) peeled and cut into chunks
olive oil
salt, black pepper and thyme
a couple knobs of butter
180ml chicken stock (3/4 cup)
instructions:
How to cook Another Roast Chicken
Preheat the oven to 220*C/425*F/ gas mark 7.  Have ready a large deep roasting dish or tin.
Prepare your vegetables and scatter them in the bottom of the roasting dish, along with half the garlic.  Season to taste with salt and pepper, sprinkle with a bit of thyme and drizzle with olive oil.  Tuck the lemon slices in amongst the vegetables.
Spatchcock your chicken, but cutting along both sides of the back bone and removing it with a sharp pair of kitchen shears.   Open out the chicken and press it down firmly with the heel of your hand.  Season inside and out with salt and black pepper.  Take the remaining cloves of garlic, sliver it and place it between the skin of the breast and the meat.  Push a knob of butter in as well and a bit of thyme.  Place, opened up on top of the vegetables in the roasting dish.  Drizzle with a bit of olive oil and squeeze the juice from the other lemon over top.
Roast in the preheated oven for 35 minutes.  Remove from the oven and pour in the stock, taking care to pour it around the sides and not over the skin to keep the skin crisp.
Return the chicken to the oven and roast for a further 50 to 60 minutes or until the juices run clear and a leg twists easily in its socket.  Remove from the oven, tent with foil and set aside to rest for half an hour while you prepare any remaining vegetables you might want.
Slice the chicken and serve along with the vegetables and some of the pan juices spooned over top.
Created using
The Recipes Generator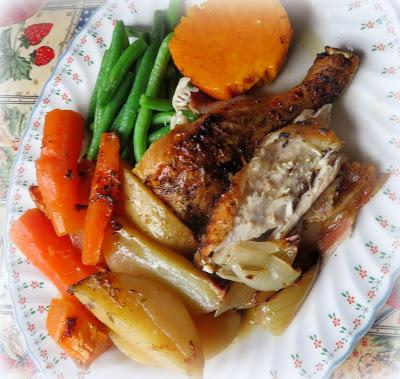 A roast chicken dinner . . .  its simple really.