While it is not my all time best selling canvas, I think my "Peeky Kitty" canvas must be the most stitched, as I have featured it here on the blog more than any other canvas.  With two new additions to show, I thought it was time for another retrospective.
Here is the newest addition, stitched by Rachel Grossman and finished as a sweet easel back: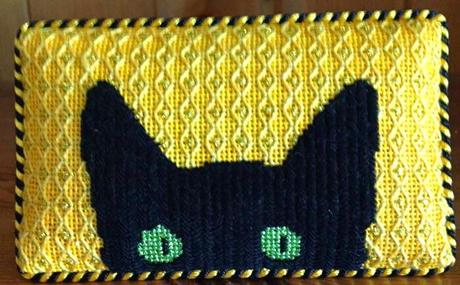 So cute!  I love the trim and the background stitch.
Similarly, here is another finished as a hardback ornament, this one from Rittenhouse Needlepoint: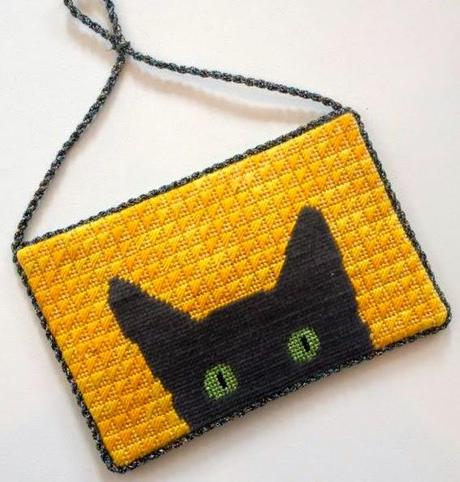 The second newest to the group is this really creative version stitched by Linda of the blog Split the Needles, from a Susan Portra stitch guide: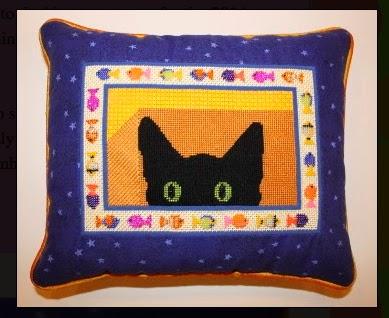 The addition of a border of beaded fish just blows me away!  Love it!This is a version that I spotted on my own, "in the wild" at Aristeia Needlepoint, and snapped a photo with my cell phone.  Who says a small canvas can't be made into a lavish bolster pillow?  I love the touch of purple they added to the background too.

Last but certainly not least is possibly my favorite rendition of all, Vicky De Angelis's own version, with super-cute fish background: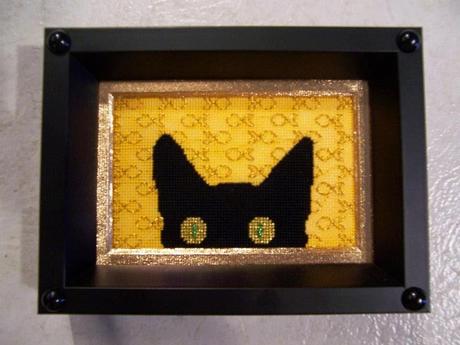 There you have them as of today's date.  If you have any you would like to add to this collection, please do send them my way.  I may have to get on the bandwagon and stitch this one myself!   Happy Stitching!