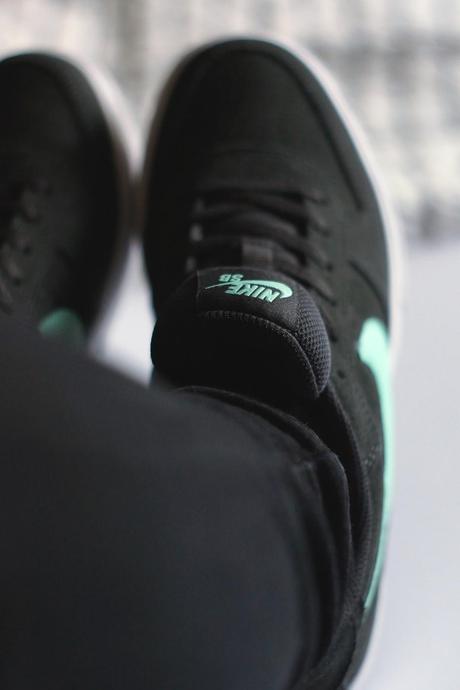 I just can't help myself when it comes to trainers. I already have two pairs of New Balance 410s that I wear all the time (or my low top converse that I pop on for work sometimes) but aside from my running shoes, I don't have any Nikes. I soon fixed that issue!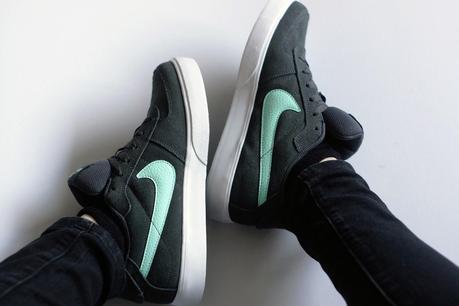 I've always been a fan of skate style trainers, having many pairs of Vans in the past and some all black DCs that I would sneak on for school when I wasn't wearing my all black Converse. They're really comfy and it's only recently I've steered away in favour of lighter footwear like my New Balance.
When I spotted these Nike SBs, I was incredibly tempted to buy them. Then I noticed they were the last pair and conveniently in my size! It would've been rude to leave them, especially with the swoosh being that shade of pale green I love! They're pretty similar to some Janoskis I've been looking at for a while, but these turned out to be even cheaper than I expected, costing around £35 with student discount. Bargain.


I'm not one to collect heels and although I'm fond of a good ankle boot, I really think everyone needs a good pair (or six) of trainers. I would still like to pick up a pair of Free Run 5.0s, y'know for an alternative in the gym to keep things exciting during spinning classes... Yeah, like I need any excuse!




Which trainers are your favourites?