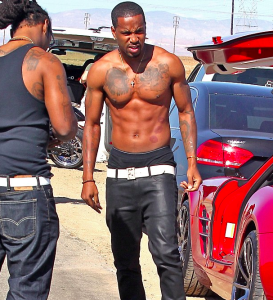 The World Was Introduced To Nicki Minaj With Her Hypeman / Assistant / Boyfriend Safaree Samuels Right By Her Side . Their 14 Year Old Relationship Has Apparently Come To An End .
Sources Claim Safaree Became Very Jealous Of Nicki's Success . The Arrangement Always Was That She Would Be The Breadwinner And SB Would Play The Background But He Began To Want Way More For Himself And That Didn't Sit Too Well With Nicki . Safaree Reportedly Became Very Hostile And The Hostility Was Then Reciprocated By Nicki ( W/e That Means ) .
The Last Straw Was Said To Be When Safaree Failed To Show Up To One Of Nicki's Shows Which Led To Her Struggling To Find A Hypeman . When She Confronted  Safaree He Allegedly Went Crazy .
Pictures Have Surfaced Showing Safaree Without is Two Nicki Minaj Tattoos FULLY COVERED UP So These Stories Are Seemingly More & More Likely .
Lol Wonder What Drake Thinks About Nicki's New Relationship Status …….