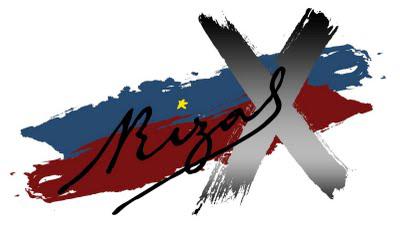 Dulaang UP's "Rizal X" is a new work that aims to re-discover and re-introduce the the National Hero, Jose P. Rizal, to the times we live in. The production will compile different points of view about Rizal, his works and his life, in a collaboration of text, dance, music, film, visual arts and vignettes, using the various media popular to today's generation.
This original production will feature young and promising actors, the live music of Happy Days Ahead and the works of different poets, playwrights, choreographers, filmmakers and artists. Among the works to be sampled are those by Dong Abay,Gerson Abesamis, Manix Abrera, Chips Beltran, Layeta Bucoy, Winter David, Deo Dela Cruz, Jeffrey Garcia, Al Garcia, JM De Guzman, Vlad Gonzales,Adi Lopez, Floy Quintos, Joaquin Pedro Valdes and Rene Villanueva.
The cast includes Reb Atadero, Natasha Cabrera, Red Concepcion, Jules Dela Paz, Bea Garcia, Alchris Galura, Jean Judith Javier, Yanah Laurel, Nicco Manalo, Maita Ponce, Reuben Uy and the Dulaang UP Ensemble.
Concept, direction and choreography by Dexter M. Santos, music and lyrics by William Elvin Manzano, musical arrangement by Happy Days Ahead. Headwriters and dramaturges are Katte Sabate and Chic San Agustin, set Design by Leeroy New, lights design by Voltaire De Jesus, costume Design by Mitoy Sta. Ana, technical direction by Ohm David, musical direction by Irish Pangilinan, photography by Jojit Lorenzo and poster Design by Tuxqs Rutaquio.
"Rizal X" opens on July 20, 2011 at the Wilfrido Ma. Guerrero Theater, UP Diliman. For ticket inquiries, reservations, sponsorships and special bookings, call Cherry Bong 0917-7500107 or Nick 0915-1916384.