In our gun culture, a gun is a means to power over other people.  It is true of lawful gun owners and criminal gun owners, a common denominator that we saw in the lap top shooting dad's behavior.  The way in which guns are used for dominance are the defining characteristic of the American gun culture, not the fantasy of guns but the reality.
Here is a horror story of one more gun owner, a man who does not appear to have prior criminal convictions, a man who is a part of the more macho gun culture variation unique to Texas.  This man wants us to believe that he has good sides to him -- as we know our gun nuts like to claim for themselves and their fellow gun lunatics, as justification we should trust them -- and that he meant well in a coulda shoulda woulda kind of way.... you know......except for the parts where he didn't, which seems to be true of so much of the gun violence.
From the
Huff Post and the AP
:
Jeffrey Allan Maxwell Trial: Texas Torture Suspect Says He Considered Freeing Neighbor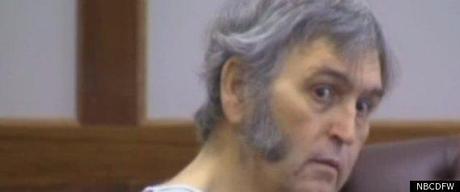 Jeffrey Maxwell is accused of kidnapping and torturing a former neighbor.
By ANGELA K. BROWN
02/17/12 07:03 AM ET
Associated Press

WEATHERFORD, Texas -- A Texas man said he never planned to kill his former neighbor and thought about freeing her after he kidnapped and sexually assaulted her, according to his audio-recorded interview with investigators that was played at his trial.
Jeffrey Allan Maxwell was initially vague about how the woman got to his Corsicana home, about 50 miles south of Dallas, and said they had consensual sex during what he said was a four-day stay. But gradually he acknowledged that he'd held her captive and caused the severe bruises visible on the woman when she was rescued last March.
She ran outside when authorities went to Maxwell's house to question him about her disappearance after her house burned down. She had been missing for 12 days.
"I wanted to let her go, but with all her bruises, I thought ..." Maxwell is heard saying on the recording played for jurors Thursday, his voice trailing off.
In the recording, Maxwell says that he abducted the woman from her home about 100 miles away, handcuffed her and pulled out a gun when she briefly escaped, then forced her into his vehicle. After arriving at his house, he hoisted her in the air on a device for skinning animals and sexually assaulted her, he told the investigator.
Then Maxwell is asked if the woman actually agreed to sex after the ordeal in his garage. "I didn't ask her. I had her gagged," Maxwell is heard saying on the recording.The 59-year-old is charged with aggravated kidnapping and two counts of aggravated sexual assault. If convicted, he would face up to life in prison. Prosecutors were to present more evidence Friday.
He told the investigator that he chained her only at night and she read the Bible and prayed during the day. He acknowledged that she had not left his house and that nobody knew she was there.
When asked why he told authorities he was alone when they arrived at his house, he answered: "Because you caught me by surprise. She'd been there 10 days, and I wasn't expecting you. Like I said, I got myself into something I couldn't figure out how to get out of."He said the woman asked "all the time" if he was going to kill her, but he never planned to. He told the investigator that he regretted the abduction."I was sitting around every day trying to figure out how to get out of this," he told the investigator.On the recording, Maxwell repeatedly denied torching the woman's house. But he said that during the kidnapping, he wiped down the house to remove his fingerprints and took her telephone.Tony Bradford, the Texas Rangers investigator in charge of the case, did most of the talking during the interview.The woman earlier testified that Maxwell hit her with a rolling pin and handcuffed her during the March 1 abduction from her rural home outside Weatherford, about 70 miles west of Dallas. She said he kept her in handcuffs and chained her legs to a bed, even locking her in a box when he once ran an errand. She told jurors that she bled profusely after one of the sexual assaults, which she said stopped after about a week when he became ill. Then he left her unrestrained when they were in the same room but still watched her closely, she said.The Associated Press generally does not identify alleged victims of sexual assault.Prosecutors and Bradford demonstrated for jurors how the woman's wrists may have been attached to the skinning device, a thin metal strip with hooks attached that hangs by a chain from the ceiling.Investigators have testified that they found whips, chains, sex toys, duct tape, the animal-skinning device, blood-stained sheets and guns in Maxwell's house.