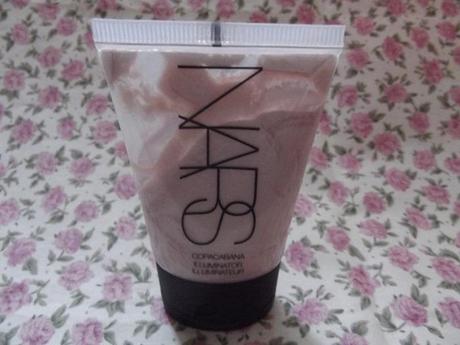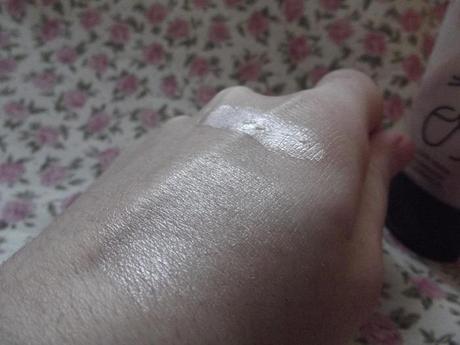 NARS Copacabana Illuminator - £21.50 at Space.NK
It was between this and Mac Strobe Cream. Why on earth I bought this I do not know? I knew in my head that Strobe Cream would work better with my Studio Sculpt foundation and I've heard so many good things. Yet, there I was, stood in SpaceNK with the eccentric little brunette woman who smothers Eve Lom and Laura Mercier products all over my hand in the hopes that I will walk out the door with them in that little black bag. Anyway, I bought it didn't I? I spent almost one quarter of a hundred pounds on this little tube of highlight –depressing. This product is gorgeous and when it is rubbed into the skin it creates such a gorgeous shimmer, however right now, it is definitely not working with my Studio Sculpt foundation. Personally, I think Studio Sculpt is becoming a little too dry looking on my skin; I've read that a lot of people say it creates a dewy finish, yet I have always had to create that dewy look myself when using it. Once my foundation has dried I go to put this on my cheek bones and down the middle of my face and it just doesn't blend as well as I'd hoped, but I do know the perfect foundation for it that I am going to go back to for a while.
Clinique Even Better Foundation is so dewy and works wonders on my skin, it can be built up for maximum coverage but even a small amount creates a lovely natural finish. I know that this illuminator will mix so well with it and create the added sparkle I need right now –as I am looking so unhealthy at the minute. I wonder why I even stopped using it in the first place. Don't get me wrong, Studio Sculpt has done me proud over the last year or so, but we all need to change our foundation as our skin changes, and right now my face needs some T.L.C. So, this is my latest purchase, and I love it, but I am feeling quite guilty as it is something I just really did not need at all –whoops!
Has anyone tried a NARS illuminator? If so, what do you use it for? Any tips?