I don't know what they fed those kids over on the
Harry Potter
set, but they all seemed to have turned into such hardworking and talented adults. Harry Melling, who played Harry's cousin Dudley Dursley in the series, wrote and stars in
Peddling
, part of Brits Off Broadway at 59E59.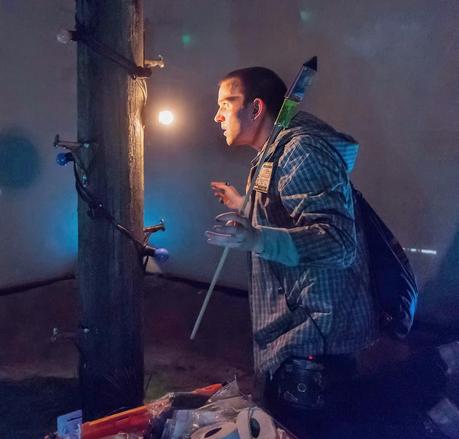 Photo credit: Bill Knight
Melling plays a peddler, going door to door selling household items like toilet paper, who wakes up almost naked in a field and has to retrace his steps. He performs the show in an enclosed space with sheer walls (designed by Lily Arnold), which gives an appropriately claustrophobic feel. Lights on a pole in the center of the stage represent other characters (Azusa Ono is the lighting designer), voiced by Melling with his portable microphone. He is a captivating performer, mesmerizing the audience with his spoken word style, even when aspects of the story are hard to follow. Although I couldn't tell you everything that happened to that peddler, it was enough to just go along for the ride.