Look! An excellent example of why drug testing before one is permitted to buy a firearm might be a good idea!  I would include abuse of alcohol in there with the testing for marijuana.  It doesn't require someone peeing in a cup either; a single human hair is an excellent measure of many kinds of chemicals in the body.  People lose those daily.  Or, for the follicle challenged, there are blood or urine tests.
A psychology profile or 'test' isn't a bad idea either, and is definitely a kind of test commensurate with the risk of weapons being misused by someone who is dangerously crazy.
From
MSNBC.com and the AP
:
Police: Gun, sniper book found in Ore. man's car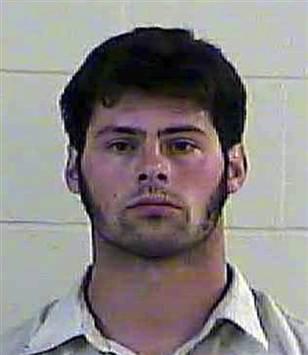 This undated photo from the Josephine County Sheriff's Office in Grants Pass, Ore., shows Rafael Enrique Amoroso, 27, of Grants Pass, Ore. Federal authorities have asked he be held without bail pending investigation of firearms charges. Police arrested him on a driving under the influence charge after leaving a high school football game. Later searches of his car and house turned up marijuana, guns, ammunition, gunpowder, and a novel about a sniper attacking a football game. (AP Photo/Josephine County Sheriff's Office)
AP
By

JEFF BARNARD

updated 10/20/2011 9:57:42 PM ET
2011-10-21T01:57:42
GRANTS PASS, Ore.

 —
A Southern Oregon man who was stopped leaving a high school football game earlier this month is back in custody after authorities say searches of his house and car turned up military rifles, hundreds of rounds of ammunition, and a novel about a sniper killing people at a football game. Investigators don't know if Raphael Enrique Amoroso of Grants Pass was planning a sniper attack, "but we were very concerned about it," Grants Pass police Sgt. Ray Myers said Thursday. "As the case developed, it became more troubling with the information that we were receiving."
Federal authorities this week asked that Amoroso, 27, be held without bail while they investigate charges of having a gun on schools grounds and being a marijuana user in possession of a gun.
Amoroso has not been indicted, Assistant U.S. Attorney Judy Harper said.
He initially was released after his Oct. 7 arrest on a charge of driving under the influence of alcohol and marijuana after leaving a high school football game in Grants Pass.
In the car, police found an ounce and a half of marijuana, a loaded gun in the glove compartment, and 200 rounds of rifle ammunition, as well as the sniper novel, according to an affidavit filed by a federal agent.
Police went to the house Amoroso shares with his mother five days later looking for evidence of manufacturing marijuana, Myers said.
A search warrant shows items found there included military rifles from World War I, World War II and the Korean War; hundreds of rounds of ammunition; a fuse; a single-shot shotgun; a helmet, a camouflaged bulletproof vest, a .22 pistol; books; and a computer.Myers said instructions on making a bomb, anti-government literature, military training books, and gunpowder also were found.
It was unknown if Amoroso had an attorney; a call to the federal defenders' office wasn't immediately returned.
Amoroso's criminal history includes an arrest when he was a 15-year-old honor student and member of the swimming team at Grants Pass High School, The Grants Pass Daily Courier reported. He pleaded guilty to third-degree assault for shooting a pellet gun at a jet boat filled with tourists passing by on the Rogue River.
The pellet hit a man in the cheek. Amoroso was sentenced to 90 days in juvenile custody.