I wrote a piece for the Irish News Review about participating in the Big Egg Hunt, which is aiming to raise money for the Jack and Jill Foundation. Well, that was only the beginning folks! My quest began with the modest aim of finding twenty out of a possible hundred, which is all you need to find for the Egg Hunt. Finding twenty eggs and submitting the form in the I-Spy booklet means that you may enter into a draw to win a year's supply of chocolate. There is also a diamond bracelet on offer, but what is that compared to lots of chocolate?  The hunting bug has completely claimed us however, to the extent that we are now aiming for the round hundred, no less. So apart from my February Month of Letters challenge, I have now added hunting Easter eggs. I think that we have reached the sixty eggs mark, or thereabouts. We scent victory in our hunt…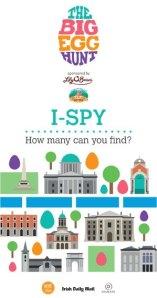 Today's bag focussed on the three to be found at
Malahide Castle
 (but I am not saying exactly where, or which ones they are so as not to spoil anyone's fun) which made for a pleasant Sunday morning excursion. Before heading to Pearse Station to get the DART, we decided to tick off the last of the Southside city center Easter eggs. We were only missing the egg on display in the
Merrion Hotel
. (
Now, this is going to be a bit of a spoiler so look away now if you prefer
). As we approached the hotel, I was rather hoping to spot the egg on a plinth outside the building. It was not alas, to be. I had visions of us trawling around the interior of this smart hotel on a rather 'egg-centric' search while brandishing our booklet and pen to the alarm of respectable hotel residents enjoying a late breakfast.
I confess here and now that I did ask the trio of door attendants standing chatting outside, about the exact location of the egg. They said that it was inside the premises (they did specify the location but my lips are sealed) and pointed in the general direction. At the hotel desk, I asked staff for more specific details, and one receptionist very kindly showed us to the egg. I will just say that we might not have located it otherwise, without wandering for quite a while through lounges and corridors. By the time the hunt is over, the amiable staff of the Merrion Hotel might be a little tired of random people wandering in off the street waving maps at them. Perhaps some of the hunters may stay on to have tea afterwards and make it worthwhile for the hotel staff. Could this have been the cunning plan all along?
I will let you know if and when we reach our goal of making a century of eggs. Meanwhile, I am almost at the end of my February letter and postcard writing stint which I have greatly enjoyed. In my next post I will give a progress report on both of those challenges.
The trouble is, I just can't stop thinking about chocolate Easter eggs!