Continuing my fabulous feelings for this time of year, I painted again in black and white and gray.  With a foot of snow outside my window, the white is appropriate.  Gray is for the fog in my head, and the black is a widow's color. 
Yes, being alone can contribute to depression at this time of year.  But I don't think I suffered less when Adrian was alive.  I just became grumpy and contributed to his depression.
There's no re-creating the Christmases of past, and no young children in my house to create one for.  "Keep your expectations low," I tell myself.  But mostly, I count the days.  And this holiday season seems to be going on forever, with Hanukkah starting early in December and New Year's day in the middle of the week. 
Everything stops. 
It is cold and dark. 
And here's my expression of this time of year: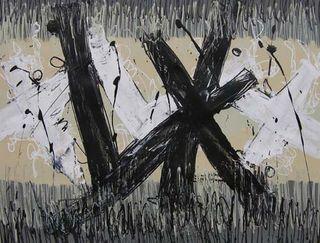 Paper Painting #19, 24" x 18" acrylic on watercolor paper.