For ages, the dream of middle class is to have a house of their own …
The first things that comes to mind when one thinks of construction is – cement – the binder, a substance that sets and hardens and can bind other materials together. The word "cement" traces to the Romans. Cements used in construction can be characterized as being either hydraulic or non-hydraulic, depending upon the ability of the cement to be used in the presence of water.  The most important uses of cement are as a component in the production of mortar in masonry, and of concrete, a combination of cement and an aggregate to form a strong building material.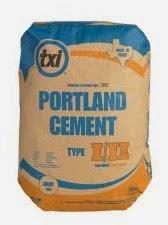 Portland cement (thought it was a brand by itself) is the most common type of cement in general use around the world, used as a basic ingredient of concrete, mortar, stucco, and most non-specialty grout. It developed from other types of hydraulic lime in England in the mid 19th century and usually originates from limestone. It is a fine powder produced by heating materials in a kiln to form what is called clinker, grinding the clinker, and adding small amounts of other materials. Portland cement is caustic so it can cause chemical burns. 
India is the second largest cement producer in the world. However, it is way behind China, where the capacity is more than five times larger. In India, it has a high rate of excise duty and accounts for 5% of total excise duty collection.   The major raw material required is limestone gypsum, coal & power. India is having a huge deposit of limestone.  Limestone is available in  Andhra Pradesh, Karnataka, Gujarat, Rajasthan and Madhya Pradesh. Gypsum is another important material which is required along with clinker.
Back home in Tamil Nadu, the 'Amma brand' is doing great.  One would nurse different views on what Govt should be doing – but Tamil Nadu CM J. Jayalalithaa took a giant leap forward when in her poll manifesto, she announced distribution of free mixers, grinders, fans, milch cows and goats, laptops to students, bus passes, free bicycles and more.    In a metropolis replete with hotels and restaurants – big and small, individual outlets, big chains and franchisees of International brands…..  the State Government forayed in to food industry setting up Amma Unavagams in all wards in the city, which instantaneously became a very big hit. Then came another master stroke - the packaged drinking water project ……. 'the amma water scheme' formally launched on 15th Sept. 2013.   ~ and in the State of famed Vedaranyam where Rajaji and others fought British with salt – Ms Jayalalithaa launched 'amma salt'….. not stopping with the success,  Tamilnadu Chief Minister aspired to provide all kinds of medicines, from routine to life saving drugs at affordable costs to the common man.  And  'Amma Marunthagam (medical shops)' came into being.   
There is no stopping of 'success tidal waves' - The Tamil Nadu government has today announced a populist 'Amma Cement Scheme' under which it will procure cement from private manufacturers and sell them at Rs. 190 per bag in the wake of possible increase in rates of the key construction component. The scheme, named after Chief Minister Jayalalithaa, who is addressed as 'Amma' (Mother) by her supporters, follows similar efforts  which have been all low-cost initiatives.
Ms. Jayalalithaa said she had recently discussed with officials the situation regarding production of cement from the State and supply from outside. The erstwhile united Andhra Pradesh contributed about 4-4.5 lakh tonnes of cement for Tamil Nadu's monthly average use of 17-18 lakh tonnes, but the companies there had now hiked the prices by Rs. 80-100 per bag, she said. "Subsequently, the supplies to Tamil Nadu had reduced to around 1.50 lakh tonnes to 3 lakh tonnes, creating a favourable situation for the private manufacturers here to increase price of cement," she said in a statement.
Therefore, she had directed officials to roll out the "Amma Cement Scheme" aiming to benefit the lower and middle classes, wherein the government will procure two lakh tonnes of cement from private manufacturers every month and sell them through all urban and rural local bodies at Rs. 190 per bag. Beneficiaries are eligible for a maximum of 750 bags for 1500 sqft, and the cement could be bought by submitting the government approved building plan or the road plan, she said. Those wanting to buy cement for repair and renovation are eligible for 10 to 100 cement bags, she said.
Tamil Nadu Cement Corporation will be the nodal agency while the scheme will be implemented by Tamil Nadu Civil Supplies Corporation and Rural Development Department through their 470 godowns, the Chief Minister said. The scheme will also cover the state's Green House and Central government's Indira Awas Yojana, she said adding, it will help ease the burden of lower and middle class in constructing a house.
Here is the price list of cement 50 kg bags as on 25th Sept. 2014: source :  http://www.livechennai.com/cement_Price_List_Chennai.asp
Cement Price List
Items Prices (Rs.)
Dalmia Vajram 350.00
Dalmia PPC 350.00
Ramco Super Grade 350.00
Ultratech 350.00
White Cement 865.00
With regards – S. Sampathkumar
26th Sept. 2014.