Now that men's fashion week has come to a close in NYC, let's take a look at some of the newest atrocities trends.  Unfortunately, these getups look like they should be worn by a mid-1900's lobotomy patient.  Take a look for yourself:

Also, didn't Rita from Arrested Development dress kind of like this?
Why does it seem as though men's fashion designers have such a hard time striking a reasonable balance?  It's always either trying too hard—or not trying enough—and it's readily apparent this time around.  2015's stark contrast to last year's well-tailored, reserved (yet still super fun), and classically-chic catalogue is glaringly conspicuous.  This was from the Fall/Winter 2014 collection (and just in case you're curious, it was put together by Gieves & Hawkes).

If I'm being fair though, I can concede this was a tough act to follow.
In good conscience, I should probably add a disclaimer before we continue: these uninspired outfits will either bore you into a coma, or assault you so violently you'll want to join a support group. According to Style.com, this year's trend seems to be androgyny, turtlenecks, black, animal prints, and some layered mess that looks hella weird. Here are some of the more "remarkable" selections: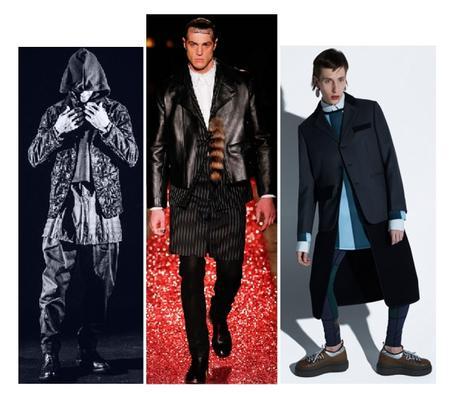 I've never seen looks more non-committal about what they want to be…
Now, I could go on about these violations of aesthetic sensibilities, but then we'd never get through this article.  If you're willing to subject yourself to the horrors, or are just plain masochistic, take a gander at this slideshow for a more complete idea of what I'm talking about.
I gotta apologize for being so pessimistic about this whole affair.  Admittedly, there were some pieces that stood out—even ones that I liked!  However, I can't really tell if it was actually pleasing and/or interesting, or if my expectations had just been whittled down to a nub…