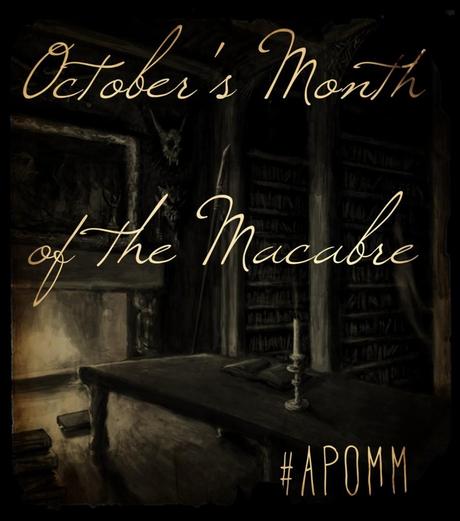 It's that time of year again… can you feel the crisp autumn air yet?  Well neither can we, we're in Arizona after all.  But that's no reason to wait, go get your pumpkin spice latté and celebrate with us!  Don't know what October's Month of the Macabre is?  Well let's get started:
October's Month of the Macabre is a month-long celebration of all things Halloween that we host here at AppraisingPages.  Last year was such a success and so much fun that we knew we had to do it again.  Want a preview of what's to come?  Check out 2012′s October's Month of the Macabre here.
For maximum haunts we need contributors!  We want to showcase and celebrate anything and everything horror-related so bloggers, authors, crafters, and creators send us your ideas, we would love to feature you.  Last year we had everything from crafts to book-inspired Halloween costumes to scary original short stories to giveaways plus everything in between and we want 2013 to blow 2012 out of the water!
We've created a handy-dandy form to contact us if you'd like to be a part of this, we will get back to you as soon as possible to get spooky:
Name
(required)
Email
(required)
Website Category You're Interested In:
(required)
Horror Author Feature Horror Novel Feature Book-Related Crafts Literary Halloween Costumes Original Scary Story Other Tell us about your idea!
(required)
And, if you're posting anywhere on social media about the eeriest online celebration of Halloween for bookworms ever, make sure to tag #APOMM (Appraising Pages' October's Month of the Macabre) so that we can join in!
You May Also Enjoy:
Horror Author Feature: Stephen King by Andrew Sturm

Horror Novel Guest Post Review by Kat: The Turn of the Screw by Henry James

Book to Movie review: "I Know What You Did Last Summer" by Lois Duncan

Horror Novel Feature: The Haunting of Hill House

Review Mash Up: The Walking Dead, Graphic Novels, T.V. Show, & HHN Maze

Kick off for Octobers Month of the Macabre

Announcing: October's Month of the Macabre

Original Short Story Feature by Cassidy Liston