Finding the perfect marriage anniversary gift can be quite a task but keeping certain factors in mind, the task can be a breeze. You can either choose anniversary gifts based on the anniversary year or personality of the recipient. For instance, a chocolate lover would prefer chocolate hampers whereas a fashionista would prefer fashionable clutches, bags, grooming and bathing set, perfumes etc. A nature lover would prefer flowers and lucky plants.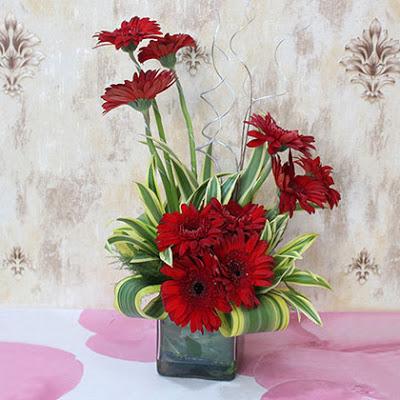 Anniversary Flowers
Flowers Can Prove to be a Good Marriage Anniversary Gift
The purity and beauty of flowers make it an excellent marriage anniversary gift. A good idea is to gift flowers according to the anniversary year. The best flower to gift on the first anniversary is carnation as they signify passion and purity. Lilies are the best flowers to gift for second marriage anniversary. 
For the third year sunflowers are the best, whereas hydrangeas for the fourth year and daisies for the fifth etc. Choosing a floral bouquet based on the anniversary year is a wonderful gifting idea if you cannot decide what flowers to gift. You can even combine flowers with other gifts to make a combo gift. For instance, you could combine flowers with cakes, soft toys, perfumes, spa hampers, Jewellery set, home décor items and much more.
Choose from a Sweeping Collection of Anniversary Flowers
Marriage anniversary is celebrated with a lot of gusto by couples. The freshness of flowers makes them one of the
best anniversary gifts
. Choose from a wide collection of flowers such as lilies, daisies, carnations or gerbera for an anniversary celebration. 
According to your choice and budget, choose the floral arrangement. The online gift stores offer a plethora of floral arrangements such as bunches, in baskets, bouquets, glass vases and much more. You should choose the type of flower and arrangement according to your preference.
Lucky Plant is a Good Alternative 
Lucky plants add the added charm to the interior décor of a room. You can choose from a comprehensive collection of lucky plants such as money plant, aloe vera, spider plant, cactus plant, ficus dwarf plant, etc. Lucky plants prove to be one of the best anniversary gifts for the nature lovers. 
In addition to enhancing the beauty of a room, lucky plants bring good fortune and prosperity. These are available in a host of styles such as curly, straight or spiral. Some of the popular lucky plants to choose are pachira bonsai, 3-layered bamboo, syngonium, shell buxus etc.
A thoughtful anniversary gift can make your loved ones feel special in their marriage anniversary. You can choose from a humungous collection of gift items at Gift a love. Send gifts online through Gift a love. We are a popular gift portal that sells gifts across various categories for all types of budgets. 
We offer gifts for all occasions including anniversaries. Some of the popular gifts we sell are cakes, flowers, personalized gift items, perfumes, grooming sets, soft toys, dry fruits and much more. In the category of flowers, we sell exquisitely designed bouquets of lilies, daisies, roses, carnations or gerberas for an anniversary celebration.
We have partnered with efficient delivery service providers to ensure perishable gift items such as cakes, flowers or sweets reach customers in any major cities of India in the same day of ordering the gifts. With the help of
GiftaLove
, you can send gifts online and be assured of timely delivery of the gifts.