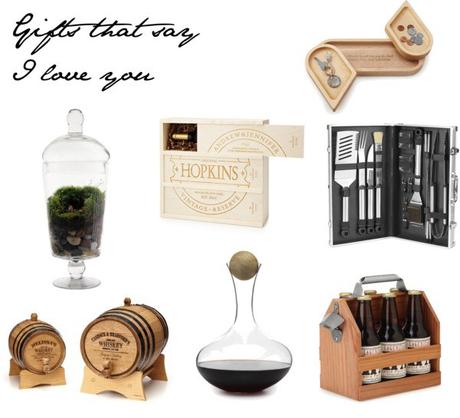 With my first wedding anniversary only a couple of months away, I've been putting a lot of thought into the perfect gift. Buying fabulous gifts for the men in your life can be tricky (I always find buying gifts for girls a whole lot easier) but I've put together a post featuring all of the cute things that I saw on my hunt for an anniversary gift for my other half. You're welcome ladies!
For the sentimental/green fingered-This has to be my favorite anniversary gift of all, mostly because it is just so unique and thoughtful. The Grow Old With You Terrarium is basically a miniature garden encased in a beautiful glass apothecary jar. Look a little closer and you will see a little couple (that you can personalise) sitting hand in hand enjoying the scenery. Super cute!
For the whiskey drinker-Put a smile on his face with this Whiskey keg. Not a fan of whiskey? This wooden beer caddy complete with a handy bottle opener is sure to go down a treat.
For the super organised-Give him a place to store all of his essentials with this personalised compartment valet. The top two layers move to reveal a hidden engraved message of your choice.
For the BBQ King-If your other half spends the summer months no more than 2ft away from a BBQ, give him the gift of his dreams with this quirky BBQ briefcase.
For the wine connoisseur-Add an extra special element to your anniversary toast with this personalised wooden wine box. So what if your other half isn't overly keen on engraved or personalised gifts? Not everyone likes to have their name engraved into their belongings so if you think this might be the case, take the safe route to anniversary gifts and opt for something inspired by his favorite tipple. This oval wine carafe will make a sophisticated addition to his bar and he will think of you every time he enjoys a glass of his favorite wine.
If you are looking for gifts that are a little bit different but still personal be sure to visit Uncommon Goods. They have all of the unique gift ideas that you won't find on the highstreet. I love reading gift guides so if you have any amazing anniversary gift ideas for the man in your life, leave me a comment.
*This post was sponsored by Uncommon Goods but as always the opinions stated are my own.