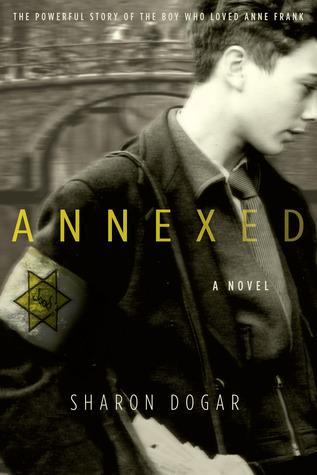 AnnexedAuthor:
Shannon Dogar
Publisher:
HMH Books for Young Readers
Released:
Oct 4th 2010
Rating:
3/5


Synopsis
: Everyone knows about Anne Frank and her life hidden in the secret annex – but what about the boy who was also trapped there with her?
In this powerful and gripping novel, Sharon Dogar explores what this might have been like from Peter's point of view. What was it like to be forced into hiding with Anne Frank, first to hate her and

then to find yourself falling in love with her? Especially with your parents and her parents all watching almost everything you do together. To know you're being written about in Anne's diary, day after day? What's it like to start questioning your religion, wondering why simply being Jewish inspires such hatred and persecution? Or to just sit and wait and watch while others die, and wish you were fighting.
As Peter and Anne become closer and closer in their confined quarters, how can they make sense of what they see happening around them? Anne's diary ends on August 4, 1944, but Peter's story takes us on, beyond their betrayal and into the Nazi death camps. He details with accuracy, clarity and compassion the reality of day to day survival in Auschwitz – and ultimately the horrific fates of the Annex's occupants.

It's hard to say that I loved this book, because how can anyone express such a sentiment for relieving such tragedies. What I will say is that I picked up this book with purpose, I don't know what drew me to it, but once I read the back cover, I knew that I had to read it.
The Diary of a Young Girl
is something I studied in school, we read the book, did the movie and performed portions of it in Drama. I think stories like these are ultimately important to us because if we do not read and learn from history, then there can be no redemption.
This fictional account, gives readers the opportunity to re-experience the story, but instead from Peter's point of view. The boy whose family was trapped in the annex with The Franks. It gives an alternative perspective to the story, which although as many people have pointed out, unnecessary does not, for me at least make it any less interesting.
What I will agree with is that because the story carried on into the time after their discovery in the annex (if this is a spoiler to you, you should probably brush up on history some more) is also continues into Peter's time and final moments in  Auschwitz and Mauthausen. Part of the raw reality of Anne's diary is how it stops so abruptly because she's been taken away from it. Because this is a fictional account, there isn't the abrupt end. Everything you might have wondered, continues until his death.
What value does this fictional story have in compared to the non-fictional version? Very little, it's relatively similar in its account and considering the fact that it is NOT really Peter's personal account, it's hard to take much more from it than you might have from Anne's story. I will say the author approached this story with sensitivity for the real tragedies and with a edge of a reminder that this happened, that these people were real.
I will say that as I read this story, I was moved by it but I am often moved by any stories of its kind. Number The Stars for example, while a fictional account was also a moving tale. It's interesting to get into the mind of a boy in this situation questioning his very existence, everything he has known and loved now being used as an excuse to hate and torture his people. It's truly heartbreaking.  I wouldn't discourage anyone from reading it as I think any reminders of our past are important.
-

TWITTER

- 

FACEBOOK

 -

INSTAGRAM

 -

GOODREADS

 -

AMAZON

-