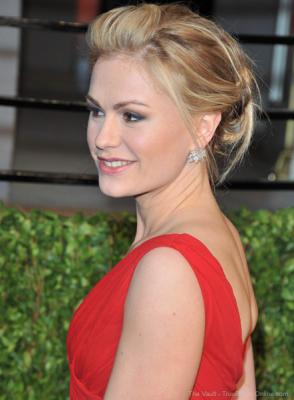 True Blood's Anna Paquin will be among the star-studded lineup at The Academy of  Television Arts and Sciences Foundation annual honors taking place March 31 in Los Angeles.
Joining hosts Mark-Paul Gosselaar and Breckin Meyer of TNT's Franklin & Bash, The Academy of Television Arts and Sciences Foundation announces its star-studded presenters for the 33rd Annual College Television Awards on March 31 at L.A.'s Renaissance Hotel.
In addition to Anna, the presenters include Grey's Anatomy actress Sandra Oh, Paul Blackthorne (The River), Jennifer Carpenter (Dexter), Rachael Leigh Cook (Perception), Cat Deeley (So You Think You Can Dance), Tony Hale (Arrested Development), Russell Hornsby (Grimm), Jason Isaacs (Awake), Zachary Knighton (Happy Endings), Rex Lee (Suburgatory), Lamorne Morris (New Girl), David Ono (ABC7 Eyewitness News), Scott Porter (Hart of Dixie), Wilmer Valderrama (Awake), Snuffy Walden (Friday Night Lights composer), Cress Williams (Hart of Dixie), Matthew Gray Gubler (Criminal Minds) and Ariel Winter (Modern Family).
"It's a huge honor when such visible and prestigious talent turns out to support and recognize the outstanding work of these college students, and this year is no exception," Television Academy Foundation Executive Director, Norma Provencio Pichardo, tells The Hollywood Reporter. "The College Television Awards feature all the excitement and celebrity of our industry, while serving as the launch pad for its future leaders."
The Television Academy Foundation's College Television Awards honors excellence in college student produced video, digital and film production. Annually, hundreds of students from across the country submit their work over 12 categories. Industry professionals judge the entries and the nominees are invited to the Los Angeles gala for the awards presentation.
Read the rest of this article at hollywoodreporter.com.