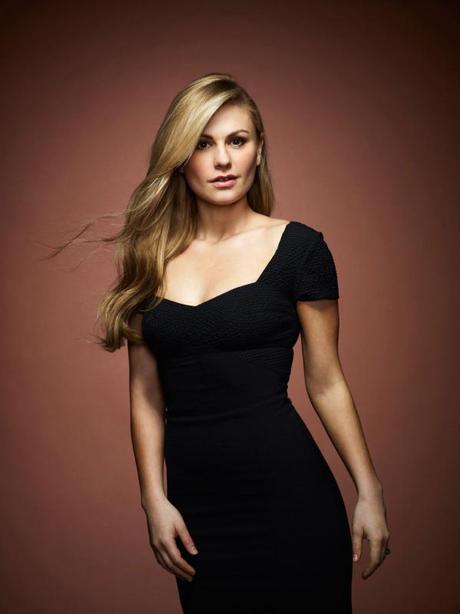 Anna Paquin has become an ever-more popular actress in recent years, thanks in no small part to True Blood. She was recently interviewed by The New York Times about the upcoming True Blood Season 4 and her life off set.
In this new interview, Anna confirmed once again that she approached Alan Ball about becoming Sookie Stackhouse. Though she knew the role was very different from what she'd done in the past, Anna was willing to commit to be on tv for several seasons. In doing so, she took on the mantle of one of her most unique roles to date. Anna said,
There's different and then there's almost, like, multiple personality, full-on, "Invasion of the Body Snatchers," who the hell is that person? Sookie is about as radically different from me and a lot of the work I've previously done as you could possibly come up with. It completely appealed to me. But I was like, "O.K., this is going to come down to, She's just not blond enough as a person." Which, by the way, apparently is a thing. Which I have heard before. That you're just not a blond person. I don't actually know what the hell that means.
Anna continued by describing Sookie as someone who "doesn't quite know just how big what she's getting herself into is." Sookie deals with her issues by finding a solution, then continuing in that vein full force.
The interview continued with Anna answering questions about the more risque scenes on True Blood. When discussing the nudity involved with her job, Anna had this to say:
I'm not going to say that they wouldn't have cast me if wasn't up for it. But it certainly would be a bit of a buzzkill if Sookie never took her clothes off, considering how often she has sex on the show. Considering the books were about the sexual awakening of a 25-year-old who has 25 years' worth of pent-up frustration and then is supposed to have lots of hot vampire sex. And also, it was not something that I was uncomfortable with. And I'd done some pretty off-color stuff in various other jobs I'd done, and at much younger ages, with a lot less life experience.
It's not only the risque scenes that are unbelievably intense on True Blood. Anna described a set she walked on to one day where there were approximately 150 crew members being encouraged to get into character and create a 'rowdy' bar atmosphere so that later a fellow actress (Brit Morgan) could crowd surf in very little clothing. Anna was impressed by Brit's attitude and how great a sport she was during the filming of that scene.
From there, the interview moved on to talking about Anna's personal life. As she's shared in previous interviews, Anna loves being physical, and participates in activities that include boxing, dance classes, and Pilates. Anna's husband and costar, Stephen Moyer, helped breed her interest in boxing, and it's something both enjoy while they're off set.
And though the two do work together, they both leave their work behind when they go home. Anna has described her job as her life, and she openly admits that in the past, she prioritized that over almost everything else. She's grateful that Stephen is just as dedicated to his work, as it helps to keep their working relationship separate from their personal relationship. That separation, combined with a deep friendship with their fellow cast mates, allows for True Blood as a whole to explore deeper into itself.
SOURCE: The New York Times Arts Beat
Image Credits: HBO, Inc.