True Blood's Anna Paquin is on the cover of UK's Red Magazine for their October issue.  In the magazine she gives an interview she talks about her marriage,  loving to work with her husband, Stephen Moyer,  her bisexuality and the luxury of being able to afford the help she needs with the new babies.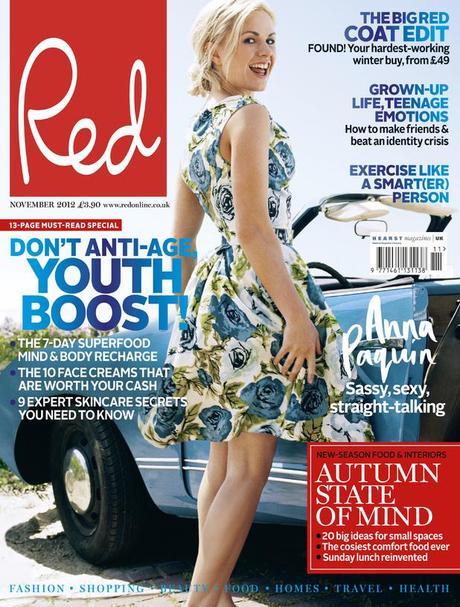 © Red
When Anna Paquin confirmed publicly she is bisexual two years ago, she admitted some people question how her marriage and sexual orientation are compatible.
"I am a happily married woman and I married a man. I don't think that negates that aspect of my life, but obviously I wouldn't be with my husband if I didn't want to be married to a man," she explained.

"Some people find it odd that you can identify with a sexual orientation that is not straight and yet be married to someone of the opposite sex. They're like, 'Obviously it's not real if you're married to a dude'."
However, she said she does not feel the need to justify her relationship in light of criticism.
"That's not my problem. I'm like, 'Okay, if that's how you feel, there's nothing I can do about it'. I'm just living my life," Paquin said.
The 30-year-old also said realizing her sexual orientation as a teenager was not an "Oh my God moment", adding: "It's just part of who I am."
Anna also told RED that she loves working with her husband Stephen Moyer. While many people would probably struggle with seeing their other half all day, every day, Anna admits that she and Stephen are not only husband and wife but also best friends.
Paquin explained to Red magazine,
"We're best friends. If you're going to spend the rest of your life with someone, you want it to be the person you want to hang out with all the time. We have a lot in common but, when it comes down to it, if that person isn't really your buddy as well, for me, I don't think that would work. And we spend all our time together."
She added,
"A lot of people say, 'Oh, I could never work with my significant other', but I love getting to go to work with the person I want to spend all my time with.' He's as English as they come, very polite, very well-mannered. He's a very nice English husband – and very attractive."
Anna also spoke about the fact that she gets a lot of help with her children, admitting that she is grateful of being able to afford it,
"I have the luxury of being able to afford the help I need. I consider having a full-time, reliable job a major blessing. You will never catch me complaining about being employed," she concluded.
Red is on sale Wednesday, October 3, 2012, be sure to buy your copy.
sources: digitalspy.com and fansshare.com