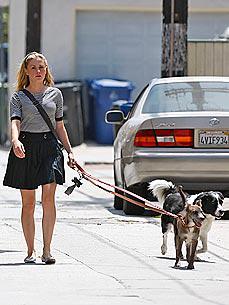 Anna walking Splash and Banjo
True Blood's Anna Paquin talks about the two dogs she owns with hubby, Stephen Moyer.  Stephen has owned Splash since he was a pup and Anna received Banjo as a gift from him for her birthday two years ago.
"We only have two [dogs], but sometimes they make enough noise to feel like a whole menagerie," she told PEOPLEPets.com Tuesday of her and husband Stephen Moyer's 12-year-old springer spaniel border collie and 2-year-old Catahoula mix.
Speaking from the Scream 4 premiere in Hollywood, Paquin added that despite their sometimes raucous behavior, being mom to Banjo and Splash has been a rewarding experience.
"They love you unconditionally, and you have to actually take care of them and it makes you step outside yourself," she said. "It doesn't matter how tired you are and if you've been up until whenever, they still need to be walked and loved and pet. I think it's good to put your own self in perspective."
source: peoplepets.com