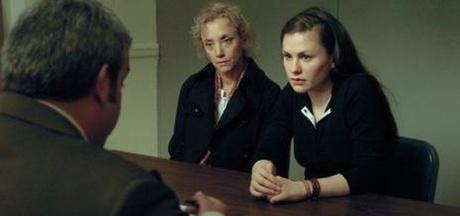 At the beginning of December, Time Magazine posted an interview with director Kenneth Lonergan on its website about his movie Margaret. As I mentioned yesterday in my post about it making a best films 0f 2011 list, it made less than $50,000 in its limited release back in September. But according to the Time article, Twitter was swept with a #teammargaret movement by fans of the movie who wanted it to be seen by wider audiences, including critics so that it could be considered for awards this season. Slantmagazine.com critic Jaime Christley even went as far as to start an online petition for that exact purpose. The film was also helped by recent very positive reviews from the London-based Telegraph and the New Yorker's Richard Brody.
Today Brody announced on the New Yorker blog the Front Row that Margaret will be receiving another screening at New York's Cinema Village with the rumor that it will be playing in other cities as well.  He is also particularly taken with Anna Paquin's (Sookie Stackhouse) performance in it:
"In the meantime, I've seen it again (at a press screening last week) and was, this time, overwhelmed by the strength and audacity of Anna Paquin's lead performance, as an Upper West Side high-school student who goes toe-to-toe with some fairly intimidating authority figures. Paquin herself goes toe-to-toe with some pretty tough and powerful actors (including J. Smith-Cameron, Jeannie Berlin, Mark Ruffalo, Matt Damon, Matthew Broderick, and Jonathan Hadary) and asserts—affirms—blasts out, for her character, a place in the world as she does for herself on the screen."
That is what I call a pretty glowing review! The film also features another True Blood connection besides Paquin. In the photo for this article, you may recognize the woman sitting next to Anna. J. Cameron Smith who played Melinda Mickens in seasons 3 and 4 of True Blood also stars in Margaret.
Here's hoping that the film gets even more screenings!
Sources: Time.com- "Kenneth Lonergan Emerges to Tell Us He's on Team Margaret"
NewYorker.com- "The Front Row: Margaret Returns"
Image Credit: Fox Searchlight