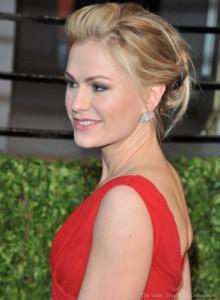 Anna Paquin is in negotiations to play the wife of the Swiss folk hero William Tell. Brendan Fraser (The Mummy) is taking aim to portray the iconic archer. Fraser is in negotiations to star in what is being called William Tell: 3D, with German star Til Schweiger playing Habsburg king Hermann Gessler and Nick Hurran directing.
According to the legend William Tell is forced to shoot an apple on the top of his son's head after not wanting to bow in front of the king's statue. When the monarch inquires why Tell had two arrows in his quiver, the archer replied the other arrow was for the king in case he missed the apple. The ensuing events led to an uprising, eventually causing the formation of state of Switzerland.
Production is scheduled to start this fall in Romania and Switzerland.
Source: Hollywood Reporter – Photo credit Wireimage